Dado blades are special circular saw blades that can cut grooves into the wood. The tracks they cut are broader than regular saw cuts and are essential for making cabinets, door panels, and other furniture. Getting the right tools as a woodworker makes the task easier and better.
Dado blades should be precise with durable teeth that will not bend after a short usage period. Many such blades are in the market by different manufacturers, making it challenging to find the best for your needs. To avoid using the wrong dado blade to damage your wood or make inaccurate dados, choosing a blade with precision, power, and durability is best.
The Mibro Group Carbide Stacking Dado Blade Set
Out Top Recommendation For Dado Blade Sets!
The high number of blades in this Mibro Group carbide stacking dado blade set is one of the main features of the blade, with its beginner-friendly setup among the many benefits of choosing this blade for your saw.
*We earn a commission if you make a purchase, at no additional cost to you*
Choosing a dado blade should be manageable as we've simplified the process by providing a comprehensive list of our top 8 dado blades. We've also included a buying guide to make your buying decision easier.
Best Dado Blade Sets
Dado blades usually come in sets of varying dado blade types. Buying a dado blade set will allow you to handle different construction tasks, so we'll briefly discuss our best dado blade sets.
1. The Mibro Group Carbide Stacking Dado Blade Set
This carbide dado blade set by Mibro Group features fourteen dado blades of varying types for your woodworking. Its insane value is why this blade set is topping our list of best Dado blades. The collection includes five 2-wing chippers, seven metal shims, and two 8-inch blades. All the blades are made from metal and feature twenty-four carbide teeth.
The manufacturers use an automatic welding technique to attach each tooth to the blade body to achieve accurate and centered placements. With premium extra-large carbide teeth, the blades last longer and are more durable. The sloth widths it can create range from ¼" to 13/14″, all in 1/16″ increments.
The package has a durable case with separate sections that keep each piece away from the other, thereby improving its lifespan. With an anti-kickback design to prevent any rapid material feeding, you minimize accidents that damage your wood and expose you to injuries. The high-quality blades are cut at 5000 RPM, which delivers fast and accurate cuts.
Pros & Cons
Pros
Anti-kickback design to prevent injuries
Durable blades
Fast cuts
Automatically welded blades
Versatile set with different blades
Convenient case
Cuts at 5000 RPM
Beginner-friendly set up
Cons
Uneven grooves
Two-winged chippers
2. Freud 10″ 30T LM75R010 Ripping Blade
The Freud thin kerf glue line ripping blade LM75R010 features a 10″ blade with 30 teeth. Its high number of teeth ensures a smooth and accurate cut, one of the most oversized pulls to using this Freud blade. However, the number of teeth also means fast cutting is complex, and the blade is not affordable.
This 1-pound ripping blade is made of durable carbide material, has a 10″ diameter, a hook angle of 12°, and a ⅝" arbor. The blade has incredible sheerness and is coated with a unique Freud coating and TiCo Hi-Density carbide.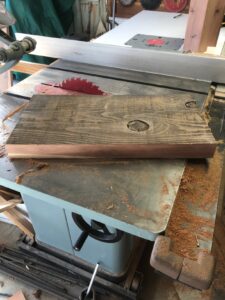 The design ensures blade wear and tear and sharpness are optimized for a better and more extended usage period. Its small carbide grain of 0.8 microns helps slow down the rate at which the edge wears. A laser-cut anti-vibration slot minimizes vibration and sideways movement, thereby ensuring quality grooves.
Pros & Cons
Pros
Perma-shield nonstick coating reduces blade drag
Laser-cut anti-vibration slots
30-tooth blade for smoother cuts
Small 0.8 microns carbide grain for reduced edge wear
Cons
Not fast-cutting
Only one blade
3. Freud 10″ Thin Kerf Combination Blade LU83R0
Here is another single-blade option made by the Freud brand. It is a thin kerf combination blade with a 10″ diameter, requiring less power to make cuts, and comes with an impressive feed rate. Like most Freud blades, it has the premium TiCo Hi-Density carbide combination blend for optimal performance.
With a massive 50-tooth blade, this Freud Thin Kerf combination blade will cut exact grooves. It is also embedded with the laser cut anti-vibration slots technology that reduces vibration and prevents sideways movement when cutting. This anti-vibration technology improves the quality of the groove this blade can deliver.
The perma-shield blade coating protects the blade from rust and prevents the build-up of the pitch while reducing blade drag while cutting. It is ideal for ripping wood materials that are ⅜" to 1 ½" thick and cross-cutting lumbers that are ¾" to 3 ½" thick. The blade teeth are arranged in a group of five, each featuring one raker tooth that ensures fast and accurate cuts.
Pros & Cons
Pros
50-tooth blade for high-quality cuts
Perma-shield coating to prevent rust and reduce blade drag
Heavy-duty, laser-cut anti-vibration slots
Requires less horsepower to run
Features impressive feed rate
Cons
Removes less material when cutting
Single blade available
4. Freud SBOX8 8″ Box Joint Cutter Set
This Freud SBOX8 blade set is suitable for cutting ¼" and ⅜" box joints with shims or adjustments. It cuts perfectly square flat-bottom slots with its unique blade design delivering precise cuts. With 20 teeth, the blade can create high-level cuts at reasonable speeds.
It is embedded with Freud's anti-kickback design to prevent injuries when feeding the wood into the blade. It uses the silver I.C.E coating on the blades to avoid pitch build-up and ensures a longer lifespan. It weighs 1 pound, features a 20° hook angle, ⅝" Arbor, and 8″ diameter.
The premium TiCo Hi-Density carbide cross-cutting blend is also used for optimal performance. The blade has a maximum power of 9000 RPM. It contains two blades and is covered by Freud's limited warranty.
Pros & Cons
Pros
Two blades in the set
Can create ¼" and ⅜" box joints
Silver I.C.E coating for more durability
Anti-kickback design for improved safety
Maximum 9000 RPM
20-tooth blade
5. Freud LM72M010 10″ Heavy-Duty Rip Blade
The perfect rip-cut blade should be solid and reliable, like this Freud heavy-duty rip blade with twenty-four teeth and a 10″ diameter. It offers smooth and fast heavy-duty ripping with its blade design delivering clean cuts that would not require sanding.
The blade area also features laser-cut anti-vibration slots that significantly reduce the vibration levels and sideways movement when cutting. Its extra large and flat top carbide teeth blade delivers high-precision cuts that do not require jointing.
It is perfect for lumber from ¾" to 2 ¾" thick and is ideal for making fast industrial rip cuts without stabilizers. The silver I.C.E coating on the blade surface prevents pitch build-up and rust. Thereby reducing cleaning time and preventing blade drag.
Pros & Cons
Pros
24 teeth blade
Ideal for ¾" to 2 ¾" thick lumbers
Offers smooth and fast rip cuts
Extra large flat top carbide teeth for precise cuts
Silver I.C.E coating
No need for stabilizers
Anti-kickback design
Anti-vibration slots
Cons
Heavy blade
Only a single blade is available
6. Dewalt DW3106P5 Table Saw Dado Blades
Here is a 60-tooth cross-cutting and 32-tooth general-purpose blade set by DeWalt, all with a 10″ diameter. It features a ⅝" Arbor hole like most saw blades, so it can easily fit into your saw. The computer-balanced plate offers reduced vibration and improved accuracy.
The DeWalt DW3106P5 Dado blade set is ideal for cross-cutting and ripping wood while delivering smooth finishes. Its thick plates and kerf ensures you can get quick and smooth cuts. The construction-grade Tungsten carbide blades are tensioned to prevent breakage and increase the blade life.
This blade features expansion slots that disperse heat and prevent overheating, while the blades are built with anti-kickback shoulders for continued smooth cutting. Its heavy-duty carbide material offers reliable cuts, delivering extended usage and durability.
Pros
Pros
A 60T cross-cutting and 32T general-purpose blade
Computer-balanced plate with reduced vibration
Anti-kickback shoulders
Expansion slots to disperse heat
Durable construction-grade Tungsten carbide blades
Affordable
7. Freud SD206 6″ Pro Dado Set
This 6″ Freud SD206 dado set allows you to work on different materials at varying angles. The set features three chippers, a shim set, and two blades and comes with spacers for improved precision and a carrying case.
It is a versatile blade set with negative hook angles that encourage clean cuts without splintering. Its 10-tooth design helps to make fast cuts, however, with slightly reduced precision. Since you can only get three chippers, the dado range is limited to ¼" to ⅞" in 1/16″ increments.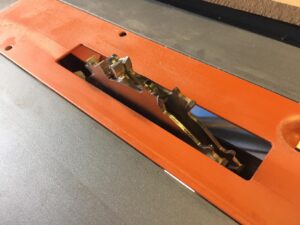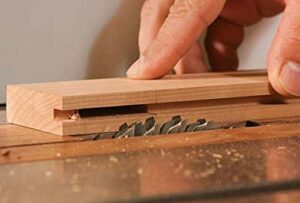 The surface of the blades in this set is covered with silver I.C.E coating that reduces pitch build-up and prevents overheating, which can reduce the blade lifespan. While it is not the most affordable dado set, it features a versatile blade set, ideal for working on varying materials and grooves.
Pros & Cons
Pros
It comes with spacers and a durable carry case
Versatile blade set
Silver I.C.E coating to reduce build-up and prevent corrosion
Shim set
Negative hook angles for better cuts
Proprietary carbide tips
Cons
Not beginner-friendly
Only three chippers limit the dado width
8. Freud LU79R006M20 6.3″ Thin Kerf Blade
Here is a lightweight, thin kerf dado blade with a 6.3″ diameter for creating grooves. It features a 48-tooth blade that delivers precise and smooth cuts. The hook angle is 2°, while the premium TiCo Hi-Density carbide cross-cutting blend provides impressive performance.
With a perma-shield nonstick coating on the blade body, drag is reduced significantly, and the blade is protected from pitch build-up and rust. It features a modified triple chip grind and a high alternate top bevel tooth design that prevents splintering while cutting.
The affordable dado blade saw is perfect for people looking for a quality blade that can produce precise cuts on a limited budget. Like most modern dado blades, this Freud LU79R006M20 saw features an anti-vibration slots system to reduce vibration and encourage smooth cuts.
Pros & Cons
Pros
48-tooth blade for high-precision cuts
2° hook angle
Perma-shield nonstick coating for a durable blade
Hi-ATB and MTCG tooth design prevents splintering
Affordable blade
Cons
Extremely lightweight and low durability
Not fast-cutting
Buying Guide
This buyer's guide will clarify your buying decision by discussing factors we consider before curating our best dado setlist. You can select the most suitable dado set for your project.
1. Types of Dado Blade
There are typically two types of dado blades based on their cutting pattern. A wobble and stacked dado blade are the two main types. The wobble blade spins wobbly, leaving a cove after cutting the groove. It is also easier to set up as it features limited parts.
For stacked blades, there are inside and outside chippers. They deliver flat and perpendicular sides but require a lot to set up due to the numerous parts. Stacked blades are more accurate than wobble blades; however, wobble blades are faster to set up and use.
2. Teeth
These are located at the edges of the blades and are responsible for making the cuts and ensuring smooth edges. Typically, the more teeth a blade has, the more powerful and precise carving it can create; however, extra teeth also mean slower cutting time.
3. Size
The size of your dado blade is another essential factor to consider as this determines the size of grooves it can create. Smaller 6″ blades are suitable for low-power saws but are limited, while larger 8″ Dado blades require high-powered saws. They offer more versatility as they handle different wood types and dado sizes.
4. Material Quality
The quality of the blade material will determine its longevity, with carbide and metal blend among the most common materials for making dado blades. Some manufacturers add other helpful features that improve the durability of the blades, like coatings.
Summary
Dado blades are useful blades for your table and miter saws to create grooves and holes for your woodworking. With so wide varieties available, making the right choice to get quality, high-precision cuts while ensuring the blade fits your saw becomes necessary. This guide provides the best Dado blade sets in 2023, among other helpful tips.