Dressers offer an organized approach in storing your clothing and accessories. This piece of furniture can come with three or even eleven drawers. The color of the dresser in combination with key attributes such as the number of drawers, handle type, and overall size, prove instrumental in deciding how useful the dresser will be, be it aesthetically or functionality wise.
You could bring a different style and vibe inside your room by building your own fully customizable dresser. These DIY dresser plans make use of upcycling or purchasing the most affordable of basic materials to build fashionable dressers.
Whether you want a compact or a big-sized dresser, a media storage dresser or a dresser with casters, or simply a dresser makeover, these DIY dresser plans will give you more than a few options.
If you prefer to keep your dresser in the closet, these then DIY closet organizer plans should be of additional help.
15 Fantastic DIY Dresser Plans & Ideas
Here are 15 DIY Dresser Plans & Ideas to build your fantastic and easily manageable dresser.
1. DIY 7-Drawer Dresser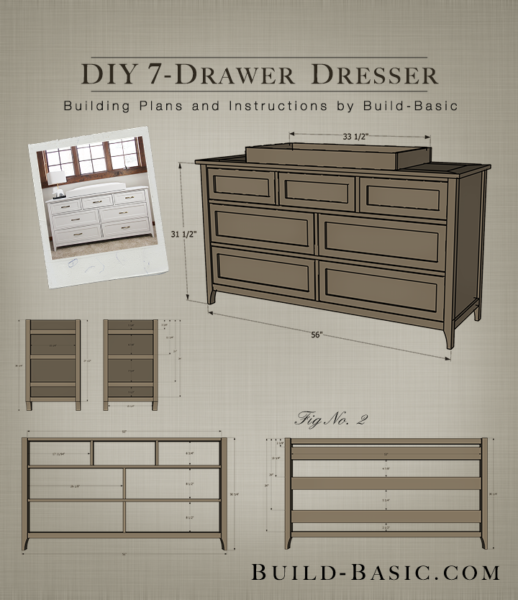 Over 70% percent of the work in this guide relates to building sturdy front, back, and side frames. Although it may look like a series of complicated steps, in reality, all you are doing is assembly.
Hats off to the detachable changing-table topper. It makes this a perfect choice for couples that are expecting a child. If projects that involve constructing large pieces of furniture seem overwhelming then you must be ready to put in a fair share of commitment.
2. DIY Basic 3-Drawer Dresser
Woodworking beginners stand the most to benefit from this DIY dresser plan. It's easy, quick, and mostly comes with promising results. Most of the materials used are plywood and basic boards, thus this should be a highly pocket-friendly option.
The dresser is compact enough to fit beside your bed, in your closet, or even right beside your bedroom door. There is a self-explanatory guide that also has free printable PDF plans.
3. DIY Media Storage Dresser
Looking for a masterpiece dresser? Nothing beats a 6-drawer dresser with each drawer being bigger than the average drawers in dressers. Additionally, there are 2 full-length shelves that could be used to set up your bedroom's digital entertainment platform. A gaming console, television, DVD player, or even some pretty little decorative items could occupy these shelves.
Don't be taken aback by its big size, the plan is beautifully explained and should assist you well enough in building this dresser.
4. DIY Blue Ombre Dresser Plan
Do you know what ombre means? Ombre is a combination of color tones that sync impressively when shaded together. If you have a worn-out and decades-old dresser lying in your home, then this DIY dresser makeover plan could spark a sense of elegance to your bedroom.
You will be using Benjamin Moore Hale Navy and Benjamin Moore Super White colors, along with a spray painter.
5. DIY Aztec Inspired Dresser Makeover
Everyone looks for designs that they find appealing and affordable. But seldom do they come across designs that they can execute themselves. This tribal-inspired dresser look is surely unique and could be achieved within a 6-hour coating and painting session.
Get ready to be surprised at what painter's tape can do for your dresser!
6. DIY Rustic Dresser Plan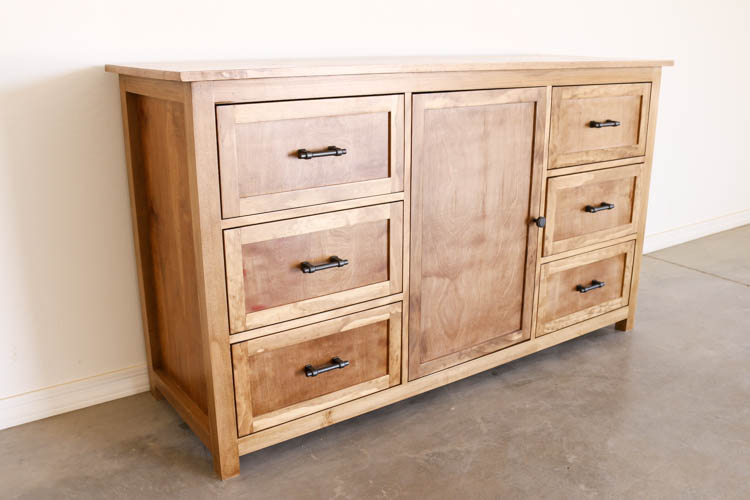 Need a main mini-door sized drawer on your dresser? This rustic dresser comes with the option to customize it as per the bedroom specifics. Even better, it is a little more than 5 feet long and comes with six deep drawers, with the main drawer showcasing 2 shelves for segregated storage options.
Don't forget to scroll through the YouTube tutorial. There are ample valuable tips that would smoothen the construction phase even for expert DIYers.
7. DIY Mirrored Dresser Plan
Been longing to work on a DIY project that builds mirrored furniture? Well, this DIY mirrored dresser plan could be completed in as little as a day. Also remember, each drawer would have a mirror attached to it.
Ideally, get your mirrors measured and cut from the shop itself. For precision and beautification purposes, let them add the holes too.
8. DIY Arts & Crafts Dresser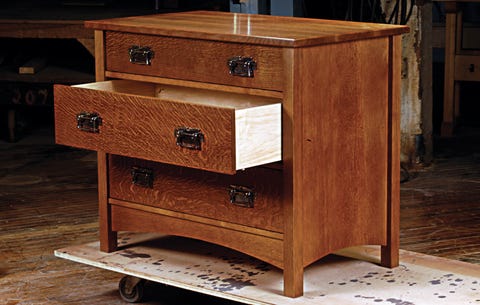 All hail the power of the holy hooks! The artistic strategy introduced in this plan lies in the curvy pattern on the lower end of the dresser. This softens the super-straight and parallel-sided appearance.
There are vertical dovetails in the drawer, while the drawer also has full-extension drawer sliders. In order to acquire a design as royal as this, be ready to shell out a few hundred dollars.
9. DIY 5-Drawer Cherry Dresser
Combine the cherry plywood for the end panels and the three full-width ones, and you have an epic dresser that should last for at least 50 years. Rather than going through strenuous construction, this guide has made use of basic joinery. The installation of the drawer guides is quite simple, as the spacer-block system makes it a breeze of a task.
Hate drawers that need to be jerked? Put some self-adhesive nylon tape onto each runner.
10. DIY Steppe 6-Drawer Dresser
Minimalism at its best. This is evident in the absence of drawer handles. The drawer fronts will be built with an intention to engrave a space to enact the role of drawer handles.
The all-white look along with the fairly generous amount of space under the lowest drawer makes it suitable for people of all sizes to operate. Above all, the guide has a perfect flow to it. Avoid skipping lines as some of her links would reduce the efforts you need to put into this DIY dresser plan.
11. DIY Simple Dresser Plan
However simple DIY dresser plans may seem to you, unless you are prepared with the materials and detailed plan, you would most likely spend more time and money than the plan suggests. It is recommended you set your construction base and also include quality wood such as redwood or cedar. These wood types are exceptional long-term options.
Make sure to apply more than 3 coats of stain and paint to all the wood. This prevents decay and enhances the look too.
12. DIY Basic 4-Drawer Dresser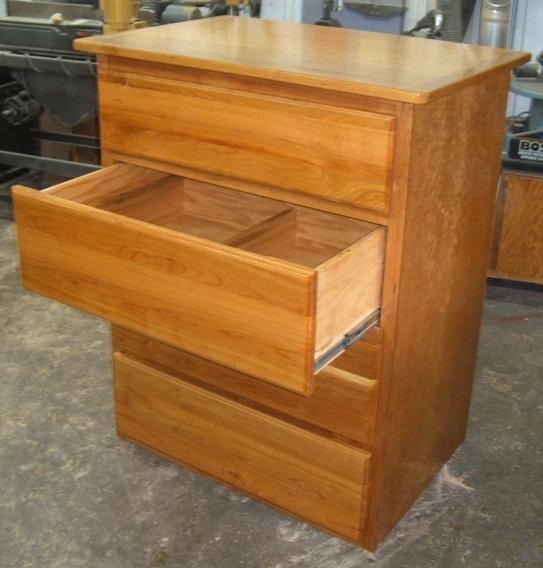 Ever thought your dresser could play the role of a slightly larger end table and also a nightstand? Literally place it beside your bed or couch and make it a multipurpose piece of furniture. All credits to the size that makes it compatible with most areas of your home.
The guide mentions the use of a table saw, miter saw, and band saw. Amateur DIYers and woodworkers may get confused at this mention. This guide on types of table saw and some recommendations should give insight on saw usage tricks.
13. DIY Wooden Dresser With Wheels
An all-wood dresser with strategic staining to showcase lavishness along with big caster wheels to easily change the location of your dresser, beat that? This DIY project was a collaboration between a globally-acclaimed DIYer, Ana White, and a brilliant website for educating yourself on 100s of DIY repositories, Shanty-2-Chic.
Do you notice the metal brackets? You could even choose such white or black brackets, as per your wall color.
14. DIY 11-Drawer Dresser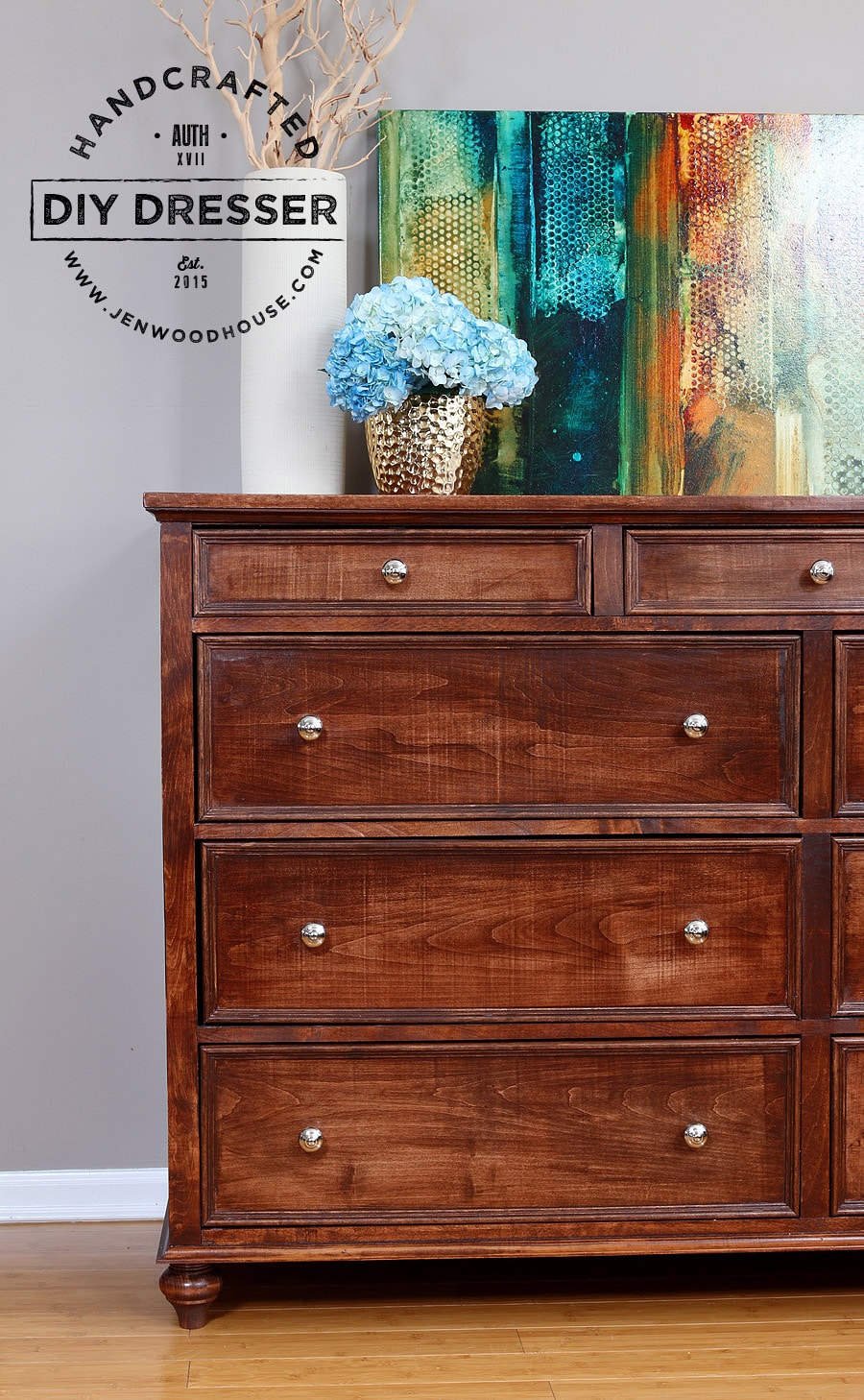 11 drawers on a single dresser! Couples who have a master bedroom could embark on this DIY dresser plan. Four full-width drawers on each half of the cabinet and three small drawers on the top, all measuring under 42''.
It is advised to cut as you go, rather than acquiring all cut pieces initially itself. You will also come across plans for 8 and 9-drawer dressers in this guide.
15. DIY Extra-Wide Dresser
Instead of focusing on height, this DIY dresser plan focuses on width. This makes it perfect for budding kiddos. The broad table-top also proves to be a platform for storing everyday items, books, and who knows what else.
The back of the face frame may be visible when you open the drawer. Place a strip of painters tape on the back of these frames to prevent giving out untidy visuals.
Verdict
If your kids are big enough to manage their own dresser, then choosing one amongst these DIY dresser plans could be a lovely gift. Either way, a dresser would be in the house sooner or later and be passed on for years to come.
You may also like: