Thinking of building a sofa or couch for your new home all by yourself? You are in luck, as today I am going to share the ultimate list of DIY Sofa Plans. You can even check out the plan and read the instructions and materials used on the website.
These plans include a variety of sofa and couch styles starting from casual outdoor and armless wood pallet sofas to patio outdoor, convertible bed, sectional, living room and luxury sofa designs.
They suit every type of individual needs. If you are an amateur looking to save some bucks or an experienced woodworker looking to modernise your living or bedroom, there are a lot of exciting and interesting plans to choose from.
50 DIY Sofa Plans
I have curated this list from some of the best DIYers on the web. So let's get down to them right away and not waste more time.
1. DIY IKEA Couch
These sisters from Vancouver were tight on a budget so they decided to build a couch on their own out of an Ikea bed. It's a very cheap alternative to buying an expensive couch. You will need a few tools like a wood saw, a staple gun, ply wood, some fabric and some other items in order to build this project.
Basically, you will be using the single bed frame from Ikea and a mattress to make this work out. Follow the below link in order to check out the step by step instructions to build this couch and enjoy your new home.
2. DIY Door Couch
Kindra has the idea of building this door couch since a couple of years. She had a lot of old doors which she eventually used to build this couch. She also used wood scrap (2x4s), mattress, pillows, some fabric and finally she painted it. It all came down to around $25 to build this whole couch, isn't that cheap? Find out the exact steps she followed to build this couch now.
3. DIY Sofa with Chaise Lounge
This chaise lounge couch/sofa is a beautiful one made by Nina in her basement. With a nice sofa table it will be a great addition to your home for sure. It involves sewing in some fabric, using mattresses and putting some nice pillows to add that magical look to it. It really doesn't cost you much to add style to any of your rooms.
Even if you are not experienced much at woodworking, you will be able to build this one. Make sure you follow the below link in order to check out all the materials used and instructions to build it.
4. DIY Solid Wood Outdoor Sofa
This is a DIY outdoor sofa made from solid wood. It should be noted that outdoor sofas can be expensive if bought from a store. Though Homemade Modern shows you a simple way to build one using some power tools and supplies from Ikea. Power tools can be a great addition to your DIY artillery since they help to build a lot of things for your home.
So after you build this sofa, the cushions will make it look a treat and you will surely be proud of yourself. Check the below link for the step by step tutorial and materials used.
5. The Creative Pallet Wood Sofa
Find the mattress you love, some pallet wood and get started. Properly measuring and cutting the wood using a compound miter saw is very important. You will have to have a good experience at woodworking if you want to build this sofa for your home. Proper protection of eyes and breathing should be taken care of.
Also wearing gloves is recommended since you don't know what you are up against when you are using pallet wood. Head on to the original source to learn how to make this sofa right away.
6. DIY Soft Couch with Painters
This project takes a single person and can be finished over a weekend as the writer said. All you need is some drop cloths, scissors, a staple gun, staples, tacks and needles. All in all it would cost you around $25-$30 to get this job done. This couch is actually a revamp of an old one. So if you have an old couch just rotting and full of dirt, you can certainly try this plan to make it look totally new. There is a very detailed tutorial with HD images on the website. Check it below!
7. Old Door Exquisite Sofa Plan
If you have some old doors taking dust and just sitting around, you should probably think about them. With this plan, you can recycle them into a beautiful sofa in just 2 days by bearing a cost of just $55. Isn't that amazing? It requires intermediate level of woodworking skills and also take proper care while performing the steps which you will find on their website.
8. The Cozy Custom Wood Plank Loveseat Sofa
Want to build an extra ordinary sofa? Check out this plan by Jamison using which you can build a two seater outdoor sofa and enjoy those beautiful sunsets together with your beloved wife. You will just fall in love with the design and the ease with which you can build this sofa. All you need is a mattress and some materials to get going.
You will need a miter saw, a pocket hole jig, a drill and some other tools in order to make this happen. You can even let your children sleep on it and use it as a bedroom couch since it's not that high.
9. Casual Modern DIY Box Sofa
If you don't want to spend much and still get the modern feel of a sofa, this plan will blow your minds. This wooden frame sofa is very durable and a perfect daybed for a couple to lounge on. The main tools you need are an orbital sander, a cordless drill with screw bit, a compound miter saw and a biscuit joiner.
If you are worried about the exact procedure, stop right now. The website has a full guide which tells you the supplies you need, tools and step by step instructions with diagrams as well. Moreover it even has a video which is an icing to the cake. Follow the plan by clicking the below link.
10. Brass Framed Hopeless Diamond Sofa
This is a very beautiful and modern looking sofa. If you are a youngster looking to impress your friends or show off something classy, this sofa by Christopher is a perfect one to build. He utilizes the shelf materials like the copper plumping pipes, shipping blankets, zip ties and carpet padding to create this wonderful piece of art.
There is a downside to this plan, as you need to make out the steps by looking at the pictures since there are no instructions given on the website. You can maybe contact the writer through social media and take that route as well. Good luck with whatever you choose.
11. Classic DIY Sofa Bed cum Couch
This one's inspired from the Ana White's blog and made out by Deanna since they just moved to another city and there was nothing they could sleep on. The main tools they used were a staple gun, a miter saw, a circular saw. They also needed some more materials which you can find out on their website by following the below link.
She has explained really well with perfect diagrams and measurements which you can use while creating your Sofa bed. The total cost for the supplies and material was under $200, so it's a pretty decent one.
12. Fainting Couch DayDream Toddler Sofa
This is for the 2 year old toddlers who can climb out of their crib and try to escape. This adorable toddler bed and sofa is a unique is built using a Kreg Jig, some screws and other materials. The kids will surely love this low heighted sofa and you can also stop getting tensed as a mom and enjoy whatever you are doing without worrying about your child. As you can see in the below image, the kids even were able to pull off some cute yoga poses. Check out the below link for full instructions and images for reference.
13. Stylish DIY Wooden Studio Sofa
This would be a perfect addition to your studio room. This one is a difficult project but with the right set of tools it can be completed earlier than Francesa. It took her 6 months solo to complete this project but if you can get a hand or two, it will be smother to get this done. The main tools include a jigsaw, drill and an electric sander.
You can check out the other materials used and a step by step demonstration with HD images on her website. You can easily find some other tutorials to make cushions/pillows by browsing her other posts.
14. DIY Modern Outdoor Sofa
This outdoor sofa can be the cornerstone of your patio set. It's very comfortable for even three adults and gives a stunning look wherever you put it. All you need is a miter saw, a drill and a circular saw to do the needful. This is certainly a great looking outdoor sofa and you can build it on your own by following the instructions as well as a video along with all the CAD drawings so it becomes very easy. What are you waiting for? Hop on to the link below and get woodworking!
15. Easy Modern Outdoor Sofa
This DIY Sofa by Ursula can be built at a fraction of the cost of a new sofa you would buy. This modern styled outdoor sofa is the average 72 couch size, can be left in the outdoors, and will make your outdoor living space look stunning and more enjoyable. You will need some Kreg clamps, pocket hole jig, a cordless drill, nail gun and few more tools in order to create this sofa without any issues. For more details on this plan, follow the link below for step by step instructions and to check all the supplies you need.
16. Plywood DIY Outdoor Sofa Couch
Melissa was inspired by a sofa plan she found on Pinterest and since she and her husband had a low budget, they chose the DIY route and went creative. Using plywood for this sofa will cut down the costs to a very high degree plus it also makes easier to work with. The most expensive part were the sear cushions and everything came down to $300 at the end. Check out the link below to see the steps, supplies needed and the diagrams to build your own sofa.
17. DIY Pallet Sofa Bed
This sofa bed was a result of the need of accommodating guests over a weekend. It works perfectly for daytime lounging or accommodating guests as well. There is a very nice 10 step tutorial on the website given below. The main tools you need are a screw driver and a hand saw. However there are some more supplies that you need and you will find the full list from the below link. The end result will look like the image you see here.
18. DIY Storage Sofa Plan
Ana White is a beast when it comes to DIY plans. There are hundreds of various DIY plans on her website and people have took action to create a lot of projects based on her plans. The good part is that they are very inexpensive which makes them very useful.
This one can be build by using some 2x4s, 2x6s, some 2x10s, some 1/4″ plywood and a lot of worn out pillows and stuffed animals in just 24 hours. And the cost of building the whole of it comes down to just $120. Follow the link below to check all the tools & supplies you need. There are also diagrams and instructions following which you can assemble the sofa.
19. Piped Bench Outdoor Sofa Cushion
This beautiful piped bench sofa was made using the shower curtains as the fabric. They are quite inexpensive, super durable and can stand up to moisture as well. You will need a sewing machine, an electric carving knife, foam cushions and some more materials which you can find in the link below to create this fashionable cushion. Follow the tutorial now by Brittany and build yourselves a pretty outdoor sofa now.
20. Platform Indoor Sofa by Genevieve Dellinger
This is a very comfortable couch which is an inexpensive alternative to a brand new sofa for sure. Plus it can be built in no time at all. All you need is a platform bed base and some foam. You need to have some fair sewing skills and you are good to go. This is a perfect addition to your guest room and could use a few guests easily. Follow the below link for the full supply list and instructions to put it all together to make a perfect sofa.
21. DIY Sectional Sofa Plan: Pallet Upholstered
After some outdoor and pallet sofa plans, it's time for a sectional sofa plan. 101PalletIdeas shared this amazing DIY upholstered sectional sofa tutorial which is a great alternative to the luxurious furniture which costs you a fortune. This L-shaped sofa brings a rustic vibe into your home and gives a modern look to it. Check this plan now by following the below link and get all the supplies you need and get started.
22. Cottage Style White DIY Outdoor Sofa
This is a very simple Outdoor sofa plan with relaxed seats and modern styling. It also has deep cushions for making your rest time wonderful as ever. It's a great alternative to designer furniture. Some major tools you need are a drill, brad nailer, Jigsaw, circular saw, sander and some others.
There are exact steps and diagrams on the website in order to make sure you take perfect measurements and are able to finish this project successfully. The estimated cost of this plan is around $30-$50 and suits best for living room or outdoor.
23. DIY Pallet Outdoor Couch
This sofa couch is perfect for those who want an area to sit and feel cozy in. It is very durable and looks splendid. You will need some pallets and casters in order to build this thing. The mattresses and the pillows will add the final touch to make it look ravishing around your home. Check the whole plan below and steps to build it with proper safety and precision.
24. Beautiful DIY Sofa with Side Table
This is a personal project by a user on Imgur which I must say is excellent. The sofa looks really attractive and I'd certainly recommend looking at the plan. The main tools used were a circular saw, a hand saw and a sewing machine. I'd say this is a little bit tough project but the exact steps shown in the tutorial will make it worthwhile to build this.
It costs around $200 to build this sofa and the most expensive things were the cushions for this guy. Refer to the below link to find all the instructions for this plan.
25. DIY Pallet DayBed/Sofa Plan
There are a lot of pallet ideas but building a sofa is one of the best uses of pallet wood. You will need a jigsaw or a hand saw in order to cut the pallet wood into proper shapes. A screw driver can be helpful for tight fitting the screws into the wooden planks. Once you complete putting it altogether, you can enjoy a modern and comfortable seating sofa in the living room. Check the below link for exact steps and supplies needed for the same.
26. Ana White's DIY Ryobi Tools Sofa Plan
This is a really cool DIY modern style and super sturdy cedar sofa by Ana White. It is built with just some 2×4 boards and is a perfect addition to your backyard or even your living room. You will need a random orbital sander and a miter saw with laser to build this project.
You can find more information on tools, supplies and the exact steps by clicking on the link below. There is even a video guide in which Ana walks you through the steps to build this sofa for your home.
27. Upcycled Crib into Cute Couch
Lydia's dad works at nursery homes & Kindergarten's and bring home things from time to time. She even keeps them at times and this time around 3 beds were stacked in her garage. So she finally decided to do something with them. After some inspiration from DIY websites and online research, Lydia decided to build a sofa for her living room by investing in some mattresses and pillows.
It's really cozy, fun, colorful and comfortable as well. It took her around 3 days to complete this project and the total cost was around 60 USD. Follow the below link to find exactly how she built it.
28. Modern DIY Timber Sofa Lounge
This project repurposes 3 timber kitchen benchtops to create a fantastic piece of furniture that's perfect for just about any home. We know that stylish and modern sofas can be expensive, so James decided to help the fellow DIYers to build something extravagant by using his skills.
You will need an impact driver, circular saw and a belt sander to work on this project. Follow the below link to get all the details and materials. There is also a video guide and a step by step tutorial for you to get this done easily.
29. Small DIY Sofa for RV with Storage
This is a small sofa which can fit even in your RV with comfortable seating for two, extra storage space underneath it and a built-in sofa table that doubles as a ledge and some space.
Inspired from outdoor and rustic sofa designs, this sofa got it's beauty from the amazing cushions and fabric they chose. Check out the whole story behind this sofa by following the link below. The tools and fabrics used are also mentioned there.
30. DIY Upholstered Couch
This is a modern DIY couch which can fit in your living room, your kid's room, bedroom or even your man's cave. The construction is pretty simple and it will surely give a modernised look to your room. You can use your own stain color and fabric since it has an extended wooden frame. Some main tools you need is a miter saw, a drill, a sander and a nail gun.
You can always choose some exciting cushions and mattresses to add the creative look. For more details and step by step instructions, follow the link below.
31. DIY Mid Century Modern Sofa
This sofa by Modern Builds is built from only the 2x6s. The main tools you need to work on this project are a table saw. a biscuit joiner and a wood filler. The basic steps include to build the platform, making the back support, adding the slats and finally adding the finishing touch.
Hop onto the link below to check all the materials and supplies needed and all step by step instructions with images to build this sofa for your home.
32. DIY Pallet Comfy Sofa
This pallet sofa project is one of it's kind which just makes you put on your tool belt and start woodworking immediately. It's a perfect addition to your gaming room, apartment or even your living room. From literally nothing to a 5-star sofa for naps and chilling out, you should certainly try this project out.
Using an electric hand sander and a sewing machine, you can build it out easily. Just follow the link below and check the exact steps to make this sofa effortlessly.
33. DIY Outdoor Sofa Bench Project
Whether you are in your backyard working and need a break or are simply relaxing in your home, a sturdy outdoor sofa will come in handy. This DIY project is an intermediate level plan that will help you build one of your own in just an hour or 2. You will need a circular saw, a drill and a drill bit as the main tools.
You can find all the other tools, materials and supplies needed by following the below link. There is also a step by step tutorial with images which you can follow and a video tutorial on the website for making it super easy for you.
34. Pine Wood Modern Freestyle Sofa
Modern furniture is more freestyle rather than the sofa we used to buy. Same goes for fashion/clothing. So it's easier to build your own sofa by using materials available. This sofa is built using the pinewood. You may need some sewing lessons to build this one but you need not be an expert.
Get the right foam products for perfect comfort and the right fabric that can withstand good amount of wear and tear. A biscuit joiner or a pocket hole jig will help you fill the invisible joints. That's all, but do make sure to check the link below for all instructions and exact amount of tools needed to build this sofa.
35. DIY Wooden Sofa
This one was built with the cushions used from the old couch. You can even use foam in place of cushions. It was made using plywood and the main tools were a miter saw, table saw, a dado blade and a power planer.
It requires intermediate level of woodworking skills and for other supplies and instructions make sure you go to the link below. This was done by Manda's husband, but she decided to share the DIY project later on since a lot of her readers were interested in it.
36. DIY Outdoor Reef Sofa
This is a simple DIY sofa that you can use outdoors. It is inexpensive even along with deep seating cushions and back cushions. Rayan has explained each and every step following which you can build you own sofa as well. There are diagrams and a full list of tools, materials and cutting dimensions too. Make sure you follow the steps given in the guide by checking the link below.
37. DIY 2×4 Outdoor Sectional Sofa
Georgia from More Like Home shares an amazing little patio project which they built on Memorial day weekend when their family was visiting them. She looked for this sofa on West Elm but since it was insanely expensive, she decided to take the DIY route.
She was inspired by Ana White's plan and made some adjustments since she was using only 2x4s which in turn made it cheaper. You will need a miter saw and a Kreg Jig in order to work on this project. It is advised to cut all the pieces of wood and then finish the sides before assembly. Check the link below for measurement for adjustments and other details.
38. DIY Outdoor Pallet Couch
Whether it's winter or the summer sunshine, you can use this loveseat couch at ease and enjoy reading a good book, work on your laptop or even have a date night with wine once the kids go to bed. This project includes 6 pallets of wood; 3 stacked on top of each other for the base, 2 smaller ones for the arms and 1 for the back.
You will need a table or circular saw for cuts and some safety tools as well. Go to the below link for instructions on how to cut, build, paint and assemble this amazing sofa for your home.
39. DIY Modern Plywood Sofa Plan
Using a 3/4″ plywood sheet, you can build a beautiful modern sofa. This plan is a unique one where it will cost you around $120 for all the supplies, materials and tools. The cost is obviously less than buying a similar readymade sofa. This is a paid plan which you can buy for $7.49 on the link below.
However if you are smart enough to make out the tools used and material supply, you can just watch the build video shared on the website and make it happen all by yourself. Check it out and make your decision.
40. DIY Outdoor Lanai Sofa
If you are looking to build an outdoor sofa for your porch, this plan will perfectly guide you. You will need a miter saw, a drill, a pocket hole jig, an air compressor and a nail gun to complete this project.
Once built, you or your family can comfortably hangout on this sofa, take naps or even enjoy a a cup of coffee in the evening and chill out. For more information on the supplies and step by step instructions, check out the link below.
41. Modern DIY Sofa by Eric Dalpiaz
This is a killer sofa by Eric Dalpiaz. Although it's a pretty difficult project, if you complete it, it will be a huge win for you. The frame is made up of hardwood and MDF and elastic straps have been used for seating.
Along with a coffee table, the overall look of this sofa is very beautiful and will be loved by all guests. Check out the link below for further details on this plan.
42. DIY Lounge Sofa/Guest Bed
This lounge sofa can be used as an office, playroom or even as a guest bed. All in all it's a multi-purpose piece. To make it look more like a sofa, Zevy added a $50 slipcover from IKEA to it.
The total cost of this idea is around $100 which makes it super affordable as well as valuable. It acts as a bed or even a couch for guests and also serves as a comfortable sofa for leisure time. Check the link below for more details.
43. DIY Outdoor Pallet Sofa
Jenna built a very attractive pallet sofa for just $5. She had free access to the wood pallets, so it makes it very cheap. The main tools she used was a compound miter saw to cut the legs, a mending plate to attach the legs and a corner brace to attach the back pallet.
After assembling it altogether and putting the cushions and stuff, the summer essential DIY couch was ready in her new deck space. Check out the link below for more details on this plan.
44. DIY Wooden Posh Sofa
A really simple but posh-looking sofa plan is here for you. All you need is some wood, some tools and materials like pillows and cushions and you are good to go. It works best if you place it in your garden or your verandah. It's a boxy minimalist sofa and painting it would even make it look better.
The link below consists of a video guide which you can follow yourself and build this nice sofa for your home. So what are you waiting for? Let's go!
45. Little Danish Modern Sofa DIY
This is a cute little sofa by Alyson who is a designer. The danish modern sofa consists cushions and a beautiful overall look. This is basically a toy project but if you are smart enough, you can convert it into a usable sofa for your home for sure. There are 3 videos in which Alyson explains how she build this sofa. So head over to the link below and get an idea of what she is doing and implement or maybe contact her and get details to work on a bigger sofa using the same plan.
46. DIY Outdoor Beam Sofa
The biggest advantage of DIY furniture is that you can customise everything at your convenience. This sofa is a perfect example since its built with the help of some leftover beams from another project. The creators advise to always buy the cushions first and then build the furniture.
The main tool used here was a Kreg jig for fitting the beams and some casters were used as well to move the sofa. Check the below link for images and other details on the plan.
47. DIY Outdoor Pallet Sofa
Inspired by Donna from Funky Junk Interiors, Laura decided to build an outdoor sofa as well. First thing she tells us is to have a good space for working on this project. Spreading wood and having multiple workstations would really help. Always keep the safety tools near yourselves (gloves, glasses etc).
The main tools like circular saw and a screw driver would be necessary. Also, don't be afraid to lay out the wood beforehand to get a good mix and look of the sofa. The entire project cost was $120 which is quite less than the normal outdoor sofa price (going upto $400). Check out the whole plan below now.
48. DIY Ottoman Modular Sofa Plan
Jamie built this sofa as a comfortable seating solution for one of her home spaces. It can be reconfigured for many purposes like kids playroom, a guest room or even move it outdoors for pool parties. It's a perfect modular sofa. All you need is some connectors and since they are predrilled, you need to attach the screws directly.
This sofa is two corner units, one armless middle unit and one ottoman. However you can make your own combinations depending on the space. Go to the link below to get a full list of supplies, cut list and exact steps to build this sofa from scratch.
49. DIY Platform Outdoor Sectional Sofa
This platform outdoor sectional is similar to the one that Jennifer Aniston has in her backyard and Ana White decided to build the same for her. Isn't that mind boggling? The best part about this sectional is the pieces are very easy to modify to fit different cushions. Since it has low-seat, you'll want deeper cushions, but you also place the back cushions behind the seat cushions to solve this.
Jennifer's seating might cost a fortune but this will just cost you $100 in all. You will need a circular saw, a drill and a sander as main tools. You can go and check the whole list of tools and materials used on the website below. There are also diagrams and full set of instructions for your reference.
50. DIY Virginia Outdoor Couch
Inspired from Ana White's RYOBI nation plan, Sarah built a wonderful looking outdoor sofa for her home. It cost her around $170 and took around 4-5 hours to complete this project on a Sunday afternoon.
For a complete list of supplies and materials used, head on to her website below. You will need a circular saw and a drill kit to work on this project. However she hasn't shown the step by step process, you can certainly watch Ana White's YouTube video HERE and learn how to get this done.
Sofa vs Couch
You need to know the difference between a sofa and a couch if you are planning to build or buy one of them for your home.
A sofa basically is derived from the Arabic word "suffah" which means a wooden bench covered with cushions and blankets. It is associated more to the formal seating and may seat upto 4 or more people. It's not so great for sleeping and resting.
A couch is something where someone can crash after a long and tiring day, where a dog can sit and where your kids can even play on. It comes from a french word "coucher" which means to lie down.
Sofas are a more formal version of the couches in general. You can place sofas in your living room while you can place couches in your study room or lounges as well. All in all, your pets and kids would probably love couches more than sofas.
Major Types of Sofas & Couches
There are certain types of sofas and couches. If you are planning to build or buy one, it's vital to know what type you and your family will like. Below are some of the major sofa and couch types. Make your pick wisely!
1. Cabriole
Cabriole is a sofa with curvy back & legs and an exposed wooden frame. It became quite popular in the first half of the 18th century. The curvy part is a trademark of Cabriole sofa type.
2. Chaise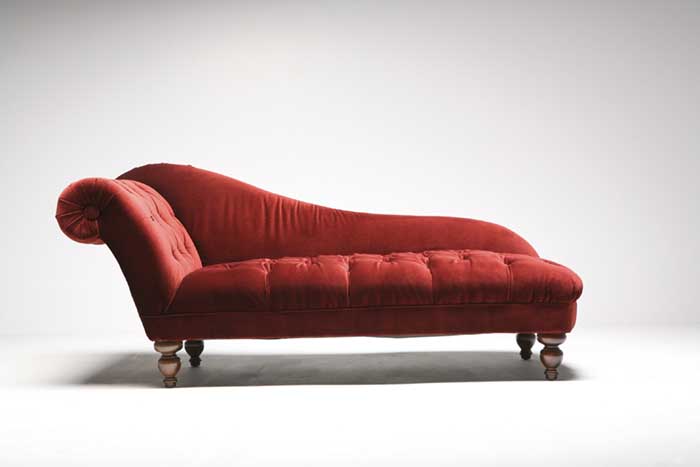 The name of this type is derived from the term "chaise lounge chairs" which are a great addition to your bedroom. It may or may not have a back & arm. Though it's quite long to support the legs while you lean on it.
3. Sectional Sofa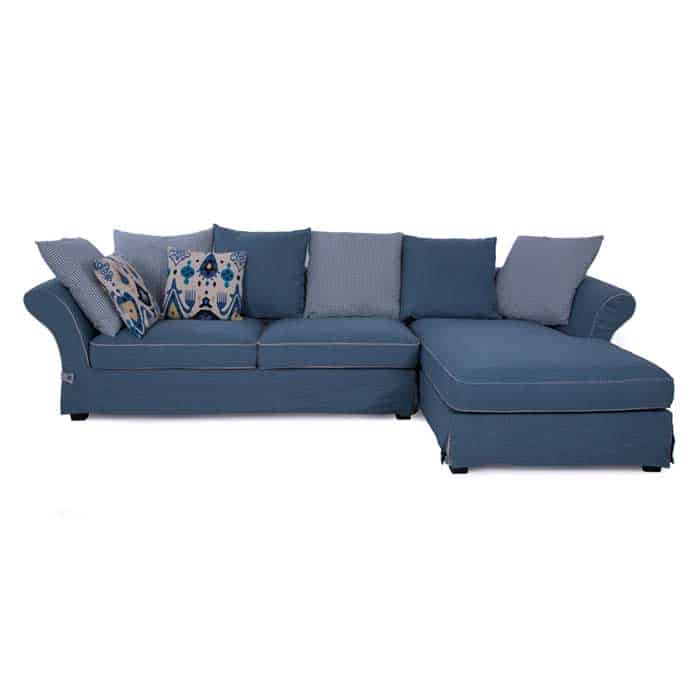 Sectional sofas are the ones in the trend today. They can be U-shaped or L-shaped which means you can put together 3 to 5 sofa depending on your requirements.
4. Daybed
As the name suggests, these type of sofas can be used for sleeping in the day as well. They range from pull-outs to futons and more. Their main purpose is to provide seating as well as sleeping comfort.
5. English Roll Arm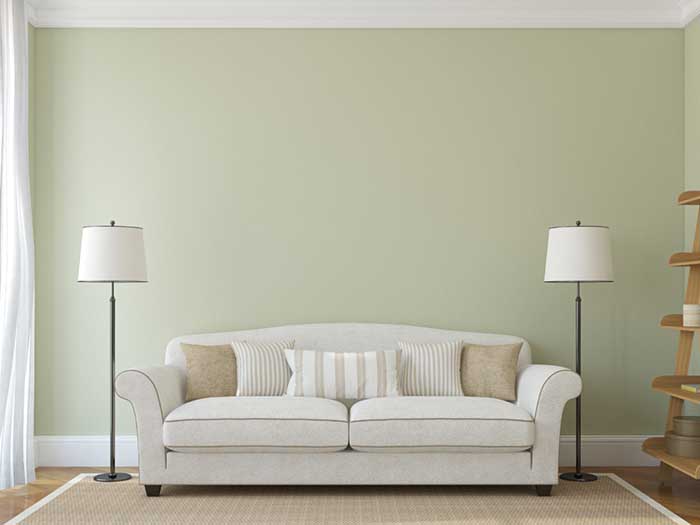 These provide the best comfort in the line of sofas. Whether you are reading a book or watching television while leaning on the curvy low arms, the loose cushions will provide excellent comfort. The non-removable cushions make the seat tight and easy to sit on for hours.
6. Chesterfield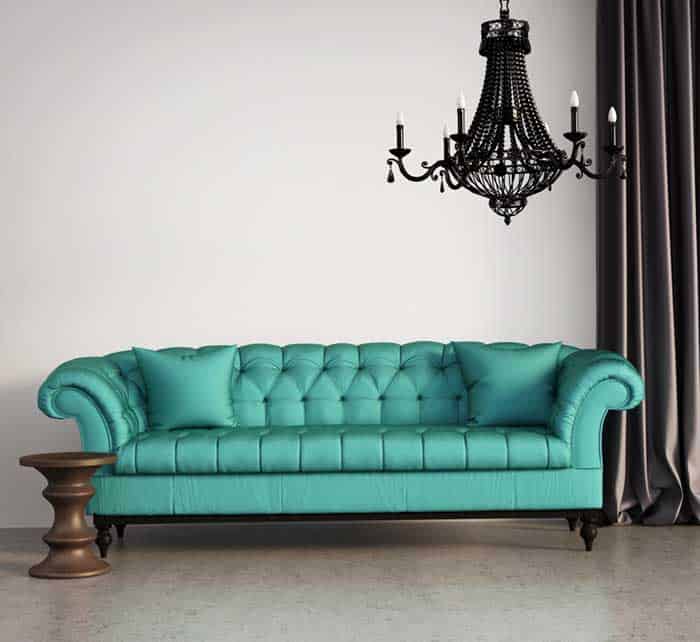 This is quite a common type of sofa and you can easily spot one at your friends' or neighbours place. The arms which are rolled have the same height as the back. Also the back and the arms are fitted with deep button tufts. It has a luxurious look and can surely be your room's showstopper.
How to Choose the Perfect Sofa
There are several factors which come into play when you are choosing a sofa for your home. The below 1 minute video walks you through each one of them and points out the exact factors which you need to prioritise when you are building or buying a sofa for your home.
Conclusion
We come to the end of this massive Sofa and couches guide. I think these 50 DIY Sofa plans should be enough to inspire you and get you started on working on your own DIY sofa/couch I guess?
I hope you enjoyed reading this guide on Sofas where I also discussed some important concepts of couches and sofas. If you have any kind of questions or want some advice, feel free to comment below. Share this humungous list of sofa plans if you loved them, cheers.