As kids, we have all dreamt of having a treehouse of our own. Now that we have grown up and can do something about it, wouldn't it be cool to finally build one?
Now, you can choose to build a fancy treehouse with the whole shebang or you might better like the idea of a simple design. It would depend on how comfortable you are with using tools and also on the amount of time and money you are willing to spend on construction.
Considering all of that, we have curated 14 awesome DIY treehouse plans, including the most simple as well as the most extravagant ideas. Go through this roundup to find one that strikes your fancy.
For more DIY plans, check out this page.
1. Deluxe DIY Treehouse
This blue masterpiece is built on a triangular framework and is designed to be freestanding. So even if you don't have trees around, you can build this structure in your backyard and it will look just as cool. The plan is explained down to the last detail which makes it easy for you to assess your progress at each step.
An important thing is to buy older pressure-treated wood as newer wood tends to corrode some metals that you will use in construction. But if you can only find newer wood, remember to use stainless steel for the metallic components of the treehouse.
2. DIY Backyard Playhouse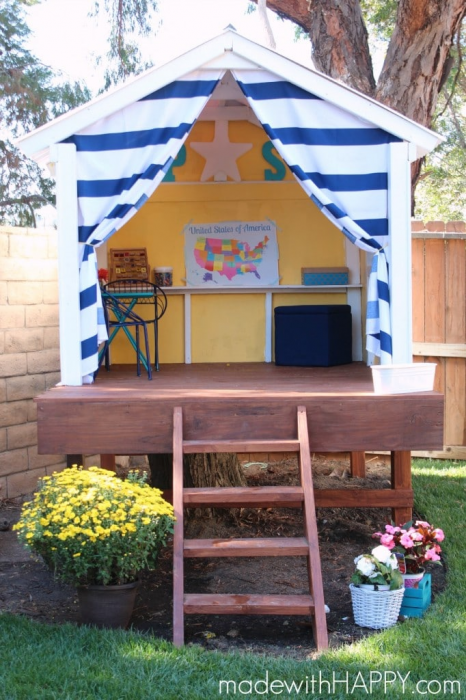 Treehouses can be built not only on trees but also on tree stumps, as demonstrated in this plan by Made With Happy. All you have to do is sand the top of the stump with an orbital sander and make sure it is parallel to the ground. Once you have assembled the floor of the treehouse, you can place it on top of the stump and build it up from there.
For the frame, buy 4×4 posts from the lumberyard or Home Depot, and assemble them using 2×4 supports at the top on three sides. Add four 2×4 supports one and a half feet above the ground as well. Proceed to build the base and then stain it with a wood sealant. Lastly, paint the frame with a color of your choice, and voila! The backyard treehouse is ready.
3. Easy DIY Treehouse
If you feel that complex DIY treehouse plans are too much to tackle, this simple treehouse should be the ideal project for you. What's more, you can use reclaimed wood to build this treehouse.
The original plan is built on a double-trunk tree. Three pressure-treated wooden planks are used as supports for the base. One of them is threaded between the tree trunks, while the other two attach to the sides. However, if a single trunk tree is all you have, you can skip using the inner plank.
4. Modern DIY Treehouse
Balanced on stilts made of wooden posts, this modern DIY treehouse plan is versatile and can be made either on a treetop or independently. Materials required for the project include plywood boards, 4 wooden posts, 2 plexiglass sheets, 4 small iron legs, and 2 wooden beams for support.
To begin with, attach iron legs at one end of the posts, insert them into the ground at an angle, and then anchor them using a concrete foundation. Spruce plywood boards are then attached to the sides, bottom, and top. Finally, add a plexiglass sheet to cover the front face, and one at the back with hinges to act as a door.
5. DIY Pirate Treehouse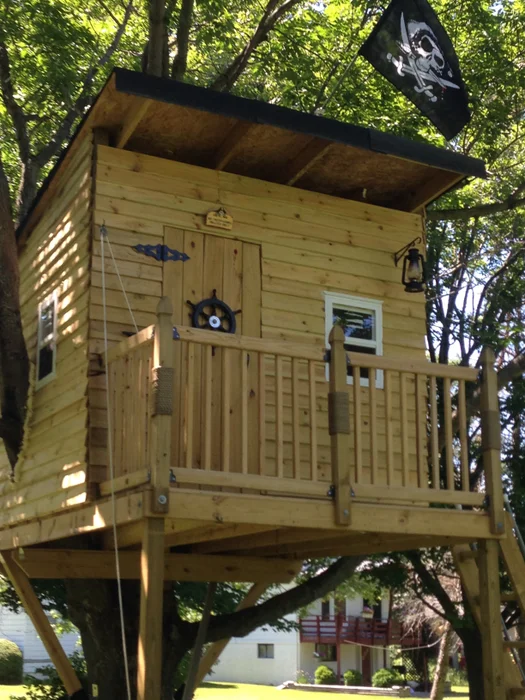 With the outside made to look like a pirate ship, this is one of the quirkiest treehouse plans to DIY. It has a spacious interior and plenty of room to adapt the plan according to your needs.
You will need 4×4 posts to act as bottom supports and decking boards glued and nailed together to create the deck (floor). For the walls, use 2×4 wooden posts to form a frame, within which plywood boards are fit. The outside of these walls is then finished using treated wood fencing as detailed in the plan.
Deck boards are nailed together for the door, and the steps are made using 2x4s, with two 2×6 boards on the sides. That's it. Just add a ship wheel to the door, a pirate flag at the top, and your pirate hideout is ready.
6. Tiny DIY Treehouse
If you do not want an elaborate structure, but a simple yet adorable looking treehouse, this is the project for you. The great thing about this plan is that the list of required materials is small. Five 4×8 sheets of half-inch plywood, twenty 2x4s, and five squares of cedar shingles are all that is required.
The 2x4s are joined to make frames to which plywood sheets are attached. These act as the walls. Since the treehouse hangs at a considerable height from the ground with a single 6×6 holding the weight, it is important to fix it firmly at the sides of the tree trunks. The key is to attach 2×6 boards to the trees using giant lag screws. This will make the structure ultra-secure.
7. DIY Treehouse From Reclaimed Wood
DIY treehouse plans that employ reclaimed wood are the best. Not only do they give off a rustic vibe, but also prove to be friendly on the pocket. This plan curated by Instructables makes use of reclaimed wooden boards of three sizes along with a circular saw, a jigsaw, and a miter saw to cut and shape them.
Firstly, 2×6 boards are attached horizontally and vertically to form a square floor frame. To this, add deck boards to finish the flooring. Reclaimed 2x4s are used to build the walls and plywood can be used to make the ceiling. If you want to make it waterproof, you can install a tin roof.
Love the idea of DIYs involving reclaimed wood, or a fan of the concept of re-using? DIY Wine Bottle Craft Ideas: 50 Beautiful Ways to Upcycle Old Ones.
8. DIY Platform Treehouse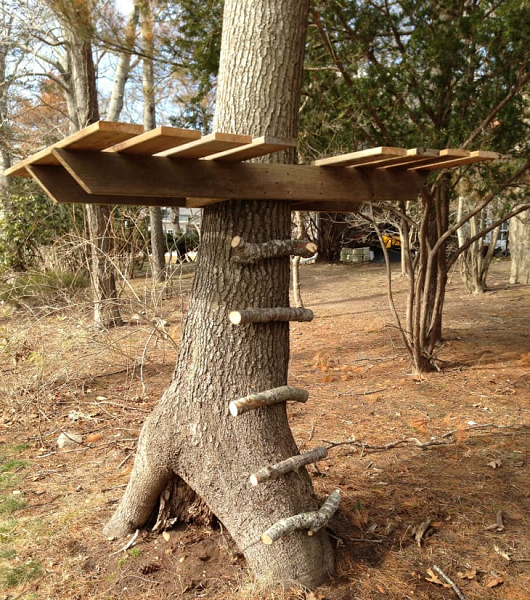 For beginner DIYers, or for people looking to involve their children in the building process, this minimalistic treehouse plan is a great choice. Because the platform is attached to a single tree, a strong and thick-trunked tree works best for this design.
To start with, drill holes on either side of the tree and attach two wooden planks with the help of screws. Fix these planks with each other using cross brace pieces. This acts as a base on top of which you can lay deck boards. Steps can be fashioned with wooden branches or small logs which are cut to size and then nailed to the tree for a more natural look.
Deciding whether to put gaps between the deck boards, will depend on a couple of things. If you want a lighter design, or if you plan on laying bedding on top of the deck, it is all right to have some gap between the boards. For use without bedding, however, it is safer to attach them closer together, lest bare feet get stuck in between while walking.
9. Ultimate DIY Treehouse
Featuring a single pitch roof, this detailed plan lets you create the ultimate DIY treehouse in a few, achievable steps. Two trees act as supports on which the frame is fixed, which in turn houses the deck boards and grooved plywood cut to size. These are joined together using liquid nails and deck screws.
If you can salvage windows and a door from previous renovation projects or a local salvage yard, it would make the project complete faster besides giving an antique look to the treehouse. For the sloping roof, 2×6 boards are screwed together to form the frame on which you can attach cut metal sheets for a quick and easy installation.
10. DIY Hideaway Treehouse
Ideal for visual learners, The Handmade Home's DIY treehouse plan lets you see the dimensions and each part of the structure closely. An elaborate supplies list mentions all the material you will need to gather for building this treehouse.
Since the instructions aren't typed out, you will get plenty of room to tinker with the different portions of the structure. One thing you should note is the use of metallic roofs. This enhances the overall appeal as well as the sturdiness of the structure.
11. DIY Deck Treehouse
DIY treehouse plans such as this one are open to as many modifications as you would like to make. You can choose to add cabins or a simple shed on top to give it a more enclosed look. In itself though, this is a clean and spacious structure that acts as a tree deck as well as a treehouse. On top of that, it is fairly easy to build.
The first step is securing four wooden posts into the ground using a mixture of concrete and rocks. These are then fixed with cross-posts to create an outer frame. Add 2×6 boards within the boundaries of the frame using a simple hammer and nails. Next, lay down deck boards to act as the platform. For the railings, attach 2×4 boards on all sides. Done! Not so difficult, right?
Read also: 20 Fantastic DIY Bookshelf Plans for Book Lovers
12. Picket Fence Treehouse DIY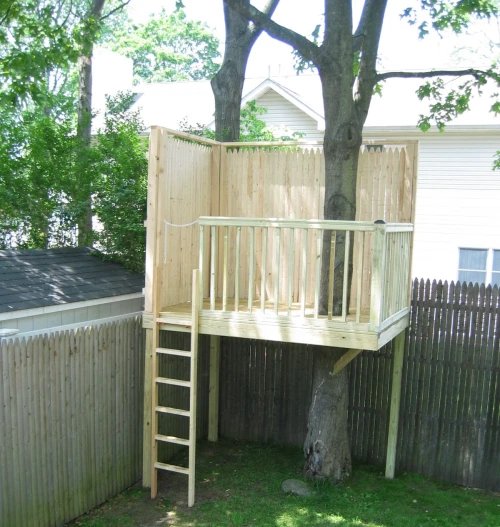 All you need to create this tiny but endearing treehouse, are pieces of 2×6 wooden boards and a reclaimed picket fence. The standard size of the lumber means that there is very little cutting involved. Even the ladder can be built using these boards themselves.
Create a frame to hold the wooden boards aligned next to each other, forming the base. The same goes for the two walls, the sole difference being you need to erect them once built. Lastly, cut the picket fence in half and attach the pieces to the remaining sides bereft of walls.
13. DIY Treetop Retreat Treehouse
This marvelous option is sure to be an amazing addition to any backyard. Although it has a complex construction, the good thing is that the instructions for building it are quite detailed and easy to follow.
A key point that you should remember is that the walls as well as the sides are easier to put together on the ground and can then be erected after completion. This gives you space to maneuver while working on them. Keep in mind, since the structure is going to be heavy, do not attempt to hoist it on your own.
14. DIY Treehouse Built On A Group of Trees
If you have trees huddled together on your property, you should consider building this treehouse plan by Instructables. What's awesome about this DIY plan is that it uses upcycled material wherever possible. Old bedposts and copper pipes make the railing while the deck is created from salvaged wooden boards.
A useful tip while attaching the frames is to drill completely into the trees as this helps secure the base firmly. Additionally, it also causes less damage to the trees themselves.
Conclusion
A treehouse is an exciting, fun-filled addition to any backyard. Not only will it keep the kids happy and occupied, but it is also sure to be a relaxing spot for adults. While building a full-fledged treehouse is not a piece of cake, the immense satisfaction that comes with having created something so intricate is well worth the trouble.
In this roundup of DIY treehouse plans, we have selected 14 designs that range from really easy to fairly difficult to build. Choose one that inspires you enough and get started with your dream treehouse!
Loved our shortlisted treehouse plans? You might also like: 23 Great DIY Pergola Plans to Build One Yourself