Sheds come in various sizes and have as many uses, with bike storage one of the most popular. Most people struggle to find the perfect storage location for their bikes and‌ leave them in the open, where they are exposed to the elements.
Leaving bikes exposed reduces their lifespan as parts rust and degrade. Many people use indoor storage spaces, but it is not possible or convenient for all.
With a bit of backyard space, you can build a small bike shed to house your bike and keep it safe. Bike sheds are great for professionally storing bikes to prolong their lifespan and keep your property safe.
In addition, because bikes are thin, they do not cover a lot of space, even when storing over one bike. Therefore, you do not need a huge backyard space to set up a bike shed.
While some people purchase the expensive wooden bike shed, some prefer to do it themselves.
DIY is a way to save costs and test your creativity by building specific sheds instead of relying on available styles.
Luckily, there are several types of bike sheds with plans that anybody with little construction experience can use. Here is a piece with several DIY bikes shed ideas with complete plans, so you can build any you like.
Best Bike Shed Ideas and Plans
Here are plans if you're looking for some inspiration for your bike shed design. They include simple and complicated designs, with some able to accommodate more than a few bikes.
1. Simple Open Bike Shed
Bike sheds do not have to be vast and high. Also, a grown-up does not have to enter the shed to access the bike.
This idea is a simple design without doors that come with an open wooden lattice. Perfect for children's bikes and scooters with hangers for helmets and tools.
The available design makes it easier for kids to see, reach, and return their bikes to their stand after use.
Apart from the open front, the sides also spot open spaces between each wood, making it possible to see what's in the shed from all angles.
A woodworker with beginner-level experience can complete it in some hours with the right tools.
2. Bike Shed and Firewood Storage
Here is a combination of a small bike shed and a firewood storage place. This style is small but with an extra deck for storing firewood for your fireplace.
The bike shed area is completely covered, with doors in front. The shed can accommodate up to 3 bikes appropriately arranged.
It uses advanced composite roofing material first layered with a tarp to ensure water does not drip in.
The front of the firewood deck is left open while the bike area is covered. Woodworkers with intermediate experience levels can handle this plan and complete it daily.
3. Cedar Bike Shed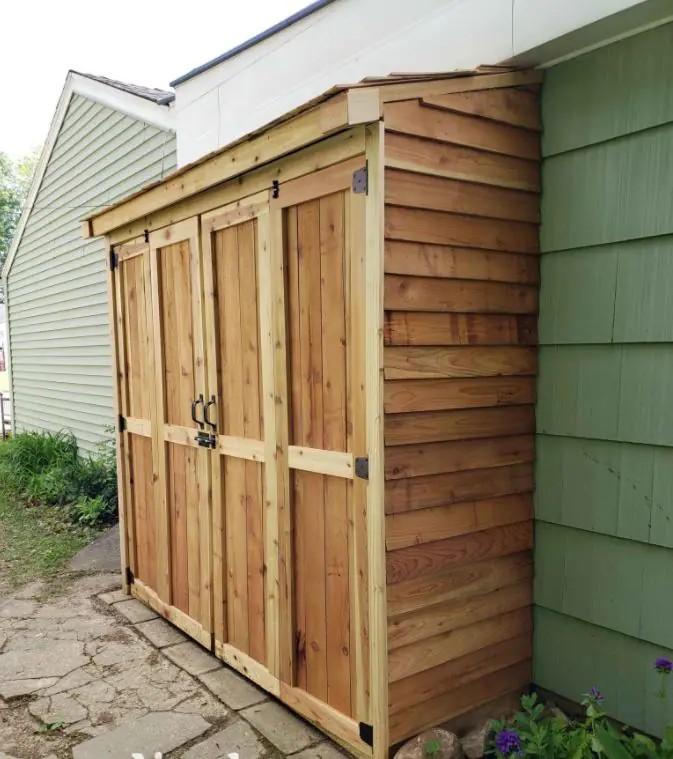 This bike shed uses cedar wood to cover the sides and make the door. The back is attached to the wall of the house, providing stability and cover. The cedar pickets are arranged so that one side of the picket is on the previous material, and the other side sits on the frame.
In the end, you have a beautiful design.
The bike stand takes up a little ground room but stretches up to the roof of the building. Bikes can be hung vertically or placed horizontally in this shed. The plan involves a lot of experience to replicate.
4. Wood Panel and Corrugated Sheet Shed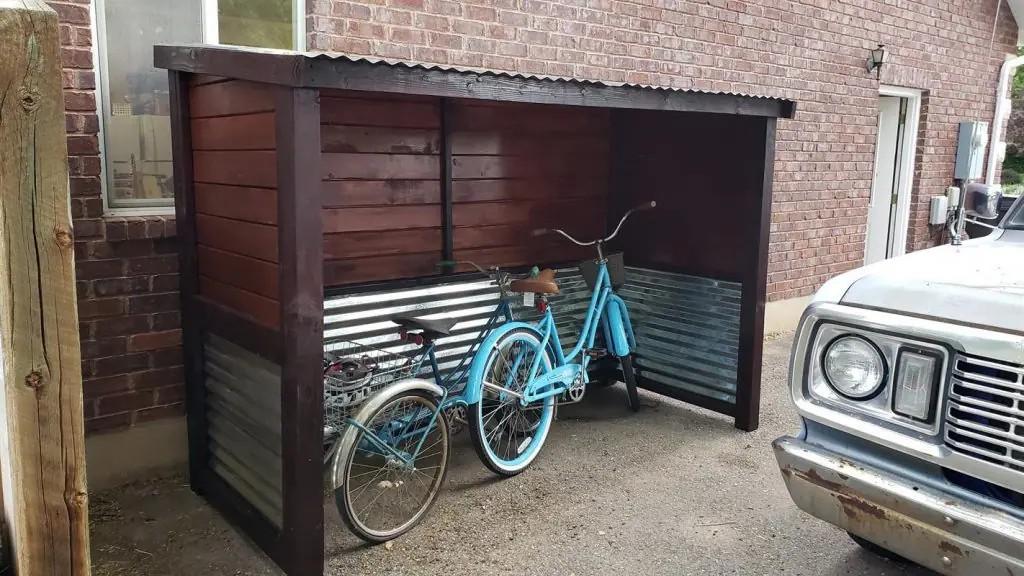 Open bike sheds make it easy to reach the bike without having to do a lot of heavy lifting, like opening heavy garage doors. This idea uses corrugated sheets around the lower parts of the shed and the roof.
At the same time, board panels cover up the remaining space. The front area is open, and the bikes in the shed are visible from the front.
Dark finishing on the wood makes the corrugated wood stand out even more.
The shed should comfortably house two bikes. The style does not feature challenging designs, and intermediate, and beginner-level woodworkers can pull it off.
5. Matching Bike Shed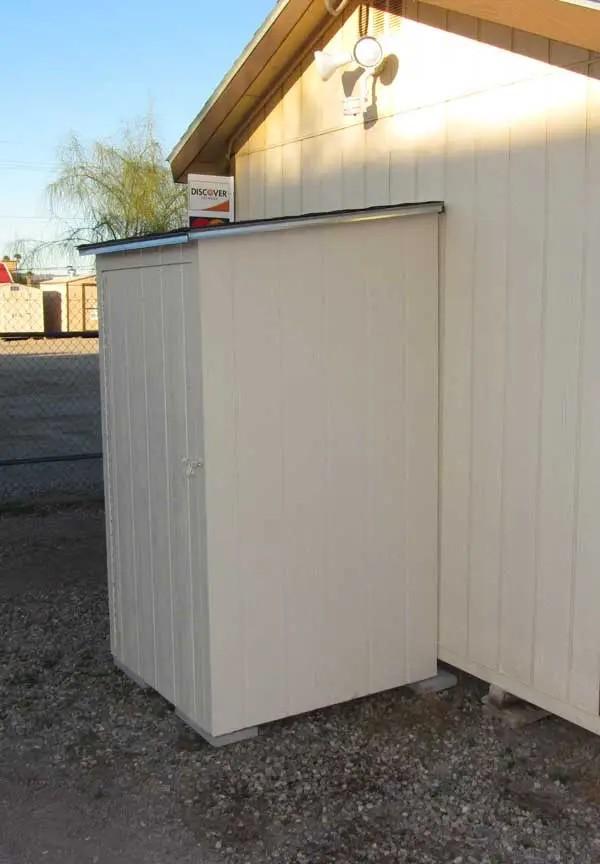 Using matching materials and paint for your shed and the house makes the shed blend in and not feel like an afterthought. This design has the bike shed attached to the wall of the house.
The shed uses a similar wood shape used on the wooden wall of the house and is painted the same color.
The uniformity of this bike plan ensures your building does not lose its appeal because of the shed attached to its side.
One large door gives access to this bike shed can accommodate house bikes in a vertical position. However, the shed is not the highest, so it cannot accommodate bikes longer than 44 inches.
6. Raised Roof Bike Shed
Here is a bike shed plan with a raisable roof design, so it is easier to store and remove your bike from the shed.
The roof uses gas struts to keep it raised when needed. You can lower the roof and close the doors to completely cover the bike and protect it against the elements.
This plan is an advanced design that takes a lot of experience, especially the raised roof. However, the large space means when you're not storing your bike, you can use the space to keep other large farm tools like lawnmowers.
It may take up to two days to complete this giant bike shed, but it can accommodate a few bikes with easy access. The good thing is that it does not require special tools to make this design.
7. Shingle Roof Open Shed
Shingle roofs are beautiful and easy to install. This bike stand features an open design with a shingle roof overhead. It features a frame and deck floor with the roof covering the area above.
The back of the shed is automatically covered by positioning the shed close to the fence. However, every other side is open, but the bikes are only accessible from the front.
The shed is large enough to house up to 7 small bikes for kids. Bright, attractive colors grace the shed, further improving its look.
The deck area raises the bike away from the ground and prevents moisture from reaching the bike.
8. Small Exquisite Bike Shed
Sometimes, simple does cut it, and you want to stand out with an exquisite design for your bike shed. This shed features a small design, making it a great fit for small areas.
It is attached to the wall of the main building and features a beautiful roof design. Bikes are vertically arranged inside the shed to save space, allowing this long shed to accommodate up to 6 bikes.
The plan is expensive to make as the materials are of high quality. If saving cost is one of the reasons for choosing DIY options, this plan may prove counterintuitive since it costs more than most pre-made sheds.
However, its design makes it a top-of-the-line shed in your home. The expensive materials and exquisite design leave this shed to advanced woodworkers alone.
9. Small 4*8 Bike Stand
This design is a 4*8 shed with the door positioned by the shorter wall, making the shed deep. You can keep the bike horizontally because of the deep design. The design fits into small spaces with more room behind than by the side.
This plan aims to create a simple bike stand that fits a particular shape without fancy designs.
Its simplicity means intermediate woodworkers will handle the project effectively. The woodworker can complete it within the weekend.
10. 7*4 Bike Shed
While bikes are not so heavy, heaving a sturdy shed is ideal to ensure longevity and protection against the weather. This bike plan features a sturdy and stable design with solid timber wood panels that fit smoothly against each other.
Even though it looks like a huge project, you won't have to spend over your budget for this plan as it is affordable for the size.
In addition, an intermediate woodworker can complete this task over the weekend or do it faster with an extra hand.
11. Repurposed Bike Shed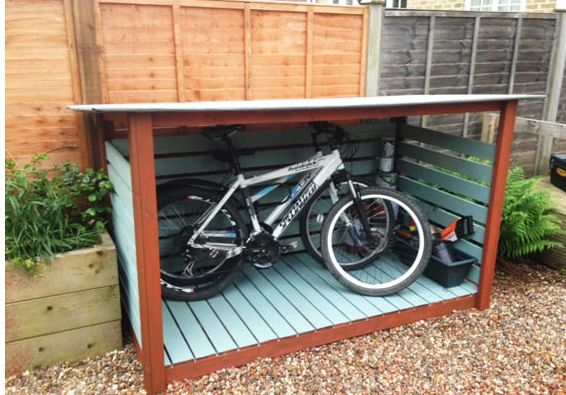 Old firewood storage can be converted into a colorful bike shed. The almost flat room gives it a unique look, while the raised deck ensures moisture from the ground does not reach the bike.
Wood panels used for the deck are also used to cover all the sides apart from the front.
This is a simple design with an open front without doors. This shed has smooth access, and kids can reach their bikes without stress.
A beginner woodworker can handle this project in one day, as it does not require special skills.
Summary
With so many DIY bike plans available, choosing a suitable plan to replicate shouldn't be a problem. First, go through the ideas above to see which will best fit your space and needs.