Customize your office space as per your requirements with these 19 DIY corner desk plans. Not only are they affordable but also easy to make. Get your woodworking skills out of their hiding space and get working on your new DIY desk!
However, if you are still a beginner, this can turn into a daunting task. But hey, we got you. Check out this woodworking guide to get started and always remember, safety first!
1. Simple DIY Corner Desk Plan
This simple and cute corner desk can be made in three easy steps – build the base, build the top, and attach it all together!
Firstly, construct the base. The material used for the base is hardwood plywood. Drill pocket holes and attach the pocket-hole screws. Then, fasten the base trims using only brad nails, a brad nailer, and some glue.
Once you've made the tabletop, fix all the pieces together and you are done! You can also add shelves on top to maximize the space as pictured above or keep it chic.
2. Massive DIY Corner Desk Plans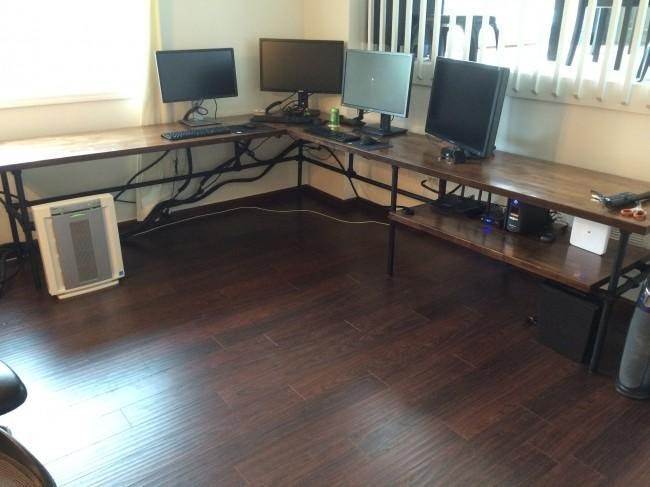 This corner desk idea promises to increase your workflow manifold by providing an extensive area to work in. Made of wood and steel, it can take some heavyweight usage. And no, we were not joking when we said it's massive. The sides measure 8 and 10 feet!
The tops are made of thick Baltic birch wood. Fix two steel plates under the joint to add strength and reinforce it better. Finally, attach the two sheets of butcherblock before you sand it or stain it. You can also add a lower shelf to add shelf-space.
3. High Top DIY Corner Desk Plans
A wrap-around desk that also allows you to work while standing? Sign us up! To make this desk, you will need some pine boards, shelf brackets, polyurethane (semi-gloss), and some power tools. Start your project by cutting the boards, then sand the edges and the surface.
You can add stain at this point if you want. However, the picture features raw wood for an authentic finish. Seal the deal with some polyurethane. The brackets should go on the wall before the wood. Finally, attach the wood to the brackets, and voila! You can also add metal chairs or barstools like pictured above for when you might need to sit down.
4. Rustic DIY Corner Desk Plans
To get this rustic corner desk project started, you will need some wooden boards, a sliding miter saw, a brushless hammer drill, some clamps, and a pocket hole system.
Begin by constructing the two-legged frames. These will go in the outer frame of the L-shaped desk. Once this assembly is done, construct the decorative X trim. Add this decorative trim to the side frames. Start fixing the side frames together, assemble everything and, done!
5. Singular DIY Corner Desk Plans
This DIY corner desk idea gives you plenty of space for storage with 5 drawers. Get some plywood sheets, drawer slides, and some power tools. Cut out the sheets as per the requirement with a circular saw for the top. You can also create the sides and the centerpiece separately and glue them together later.
To build the cabinet boxes, screw the sideboards together and attach the bottom. Fix the feet and add the face frames to the front. Install the drawer slides, drawer fronts, the middle drawer to finish.
6. Antique Style DIY Corner Desk Plans
Want to add some rusty aesthetic to your office space with a desk? This idea is definitely for you. To make the top, drill some pocket holes in wooden boards and screw them together.
Cut some wood to the size of whatever you want the height of the table to be and build the legs. Do not forget to cut some shorter pieces for the decorative trims on the legs. Assemble it all and use a sander to sand everything for a smoother finish.
7. Small DIY Corner Desk Plans
This DIY corner desk will fit into the smallest corners. Really! Start by making the internal frame first. Simply use two longer pieces and two shorter pieces of wood to make a large box. You can screw an extra piece in the center for added support.
For the tabletop, align some planks on the frame and mark the places where the biscuit slots will go. Cut out the slots and fit the biscuits in using plenty of glue and then attach all the pieces.
Also, the idea above uses grey stain on the wood. Fix the internal frame to the wall first and then fix the top onto the frame and done!
See also: 14 Sturdy DIY Table Top Plans and Ideas
8. Mounted Wall DIY Corner Desk Plans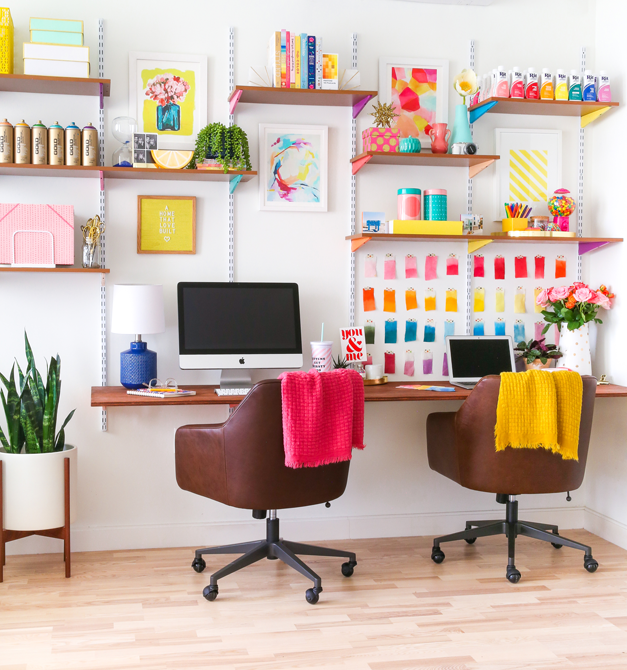 A desk mounted on the wall for extra leg space? Yes please. This idea also gives you an innovative way to add storage space with the help of many, many shelves.
Cut down the plywood as per your sizing requirements and start sanding it. Once the surface is smooth enough, stain it with a darker color. You can subtly add a pop of color to your space by spray painting the brackets. The idea above features rainbow-themed shelf brackets to add fun to the space! Mount the tracks, the shelves, and the desk onto the wall, and voila!
9. Murphy DIY Corner Desk Plans
This Murphy desk is perfect for people who do not have enough space to add a normal desk. It folds up into a wall and fully functional chalkboard. Using pine boards, make the frame, and add the top and bottom braces. Screw the shelves at your desired height.
Assemble the desk panel and frame and secure them together using brad nails and glue. Mount the desk onto the frame and install a suitcase or swivel latch to hold it in place when closed. Build and fix the leg frame at the bottom to finish.
10. Framing Wood DIY Corner Desk Plans
This raw and simple corner desk can be a great addition to an otherwise maximalist space. Get some framing wood and align them side-by-side to glue them together. The mending plates can give a real "industrial meets medieval" feel to your space.
Arrange both the surfaces into a corner desk shape and fix them together using small oak pieces. Make sure to secure them at the crease of the corner.
See also: 10 Best Framing Nailer Reviews 2023
11. File Cabinet DIY Corner Desk Plans
Want cabinets incorporated in your desk but don't actually want to build them? Check out this idea where we add something extra to a plain, old cabinet to go with the overall vibe. Just take some wrapping paper and mod podge to stick to the cabinet fronts.
For the table, cut some wood to size for the legs, get a simple tabletop ready and screw it together. Paint the desk white and there you have it!
12. Minimalistic DIY Corner Desk Plans
Being a minimalist in a world full of maximalists can be hard, but we make it easy for you. This corner desk elongates the space while also being minimal and chic.
The L- shaped desktops are bought from a store for this idea, all you need to do is the leg frames. Once you have your posts cut down with a miter saw, drill pocket holes on each end and screw all parts together.
See also: 19 Amazing DIY L-shaped Desk Plans and Ideas
13. Ergonomic DIY Corner Desk Plans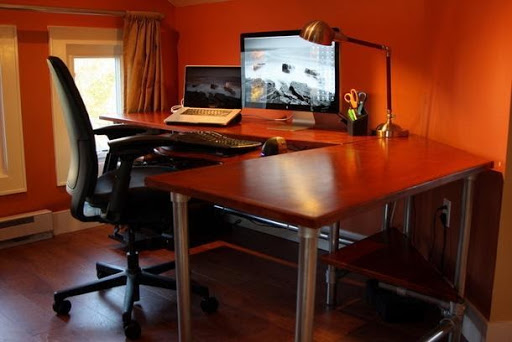 With a desk that fits like a glove to your space, you can get your work juices flowing in no time! This corner desk idea includes a revamp of an older desk so it fits better, has a more elegant top, and has more storage space.
The legs for this idea have been designed to be attached to the bottom of the desk with some support braces for added strength. It incorporates two separate desks instead of a singular long desk to provide more flexibility.
14. Stained Wood Plank DIY Corner Desk Plans
This idea works best for people who have a pre-existing base but simply need another element for some added beauty. Cut down some planks according to size and angle them on the edges. Align the longer (side) ones to prepare for the planks in the central area.
Measure, mark, and cut the central pieces. Fix it all together with some screws and power tools and start sanding. Stain it and layer it with polyurethane to finish.
15. Storage-centric DIY Corner Desk Plans
This idea is perfect for people who want storage with their desks without using any excess space. Simply cut down some plywood for the base and build corbels using smaller pieces. Attach the corbels to a cross brace (also built out of small pieces of plywood).
Other than that, all you have to do is build a box and attach a lid with a latch. Screw it all together, stain it, varnish it and you have your storage desk ready!
16. Cuboidal DIY Corner Desk Plans
Here is a cuboidal desk mounted on the wall with storage space and a minimal vibe. It does not get any better. Not only does it look easy to build but it is actually easy to build! Just construct a wooden frame and mount it on the wall. It is no doubt hard to believe that an idea as simple as this can be so functional!
17. Repurposed Piano DIY Corner Desk Plans
Why sell your antique piano for cash when you can easily repurpose it as a desk? Firstly, for the desk, take off the keyboard and remove all the keys. Pull out the metal rods, clean the space and you have your desk.
Side tip: Sell the piano keys for some extra cash
18. Wooden Pallet DIY Corner Desk Plans
Take out your measuring tape and get on with this easy-to-build DIY corner desk idea. Just get some pallets and screw them together. All you need to remember is to leave some hollow spaces for added storage options. Perch it on the wall and your desk is ready to use!
See also: 10 Epic DIY Pallet Table Plans and Ideas
19. Burnt Wood DIY Corner Desk Plans
With a single side and a corner, this desk takes less space with full utility. Simply cut out a sub-base and place the planks on it for the correct sizing. Once the overhanging wood is gone, screw the pallets onto the sub-base and attach this table-top to a basic leg-frame.
Cover up the sides with longer pieces of wood and burn the edges with a propane torch to add a rugged texture. Remember to sand it after burning so the burnt wood does not look out of place.
See also: 60 DIY Wood Pallet Projects for Your Home Improvement Needs
Conclusion
Go with your vibe and choice of aesthetics to choose the idea that best suits you. We hope these plans helped you with your corner desk-making job and also made it a lot easier.
If you want to further decorate the space and have a knack for DIY projects, check out these 30 beautiful DIY lampshade ideas to light up your office space!