Shooting houses are popular among the hunt club members as it offers a comfortable place to stand and hunt deer and maybe even some turkeys. Install a heater in the house and make your long waits in the cold weather comfortable.
Shooting houses come in varied designs. Some are simply treehouse constructed against or on a tree. The others are free-standing shooting houses placed on trails and food plots built in the areas frequently visited by the animal. Then there are portable shooting house types that offer the benefits of a free-standing traditional house that can be moved from one place to another with a tractor, four-wheel auto, or a big-sized ATV vehicle.
Hunting from the shooting house can be fun both for you and for your club members. So why not go ahead and construct your own shooting house? All that you need are some woodworking skills and a few handy tools to start the project. A drill, cordless circular saw, and an impact driver can speed up your work.
Read below as we have listed some interesting DIY shooting house plans for you to try.
1. Portable Shooting House
Find the plan below for a shooting house, portable in design and built on a raised platform on a skid. The platform is constructed using pressure-treated lumber to increase its strength and longevity. The house should be framed in treated materials. The below plan uses recycled Wolmanized Residential Outdoor Wood. This is a southern pine variety that uses copper azole to pressure treat it.
2. 5×5 Shooting House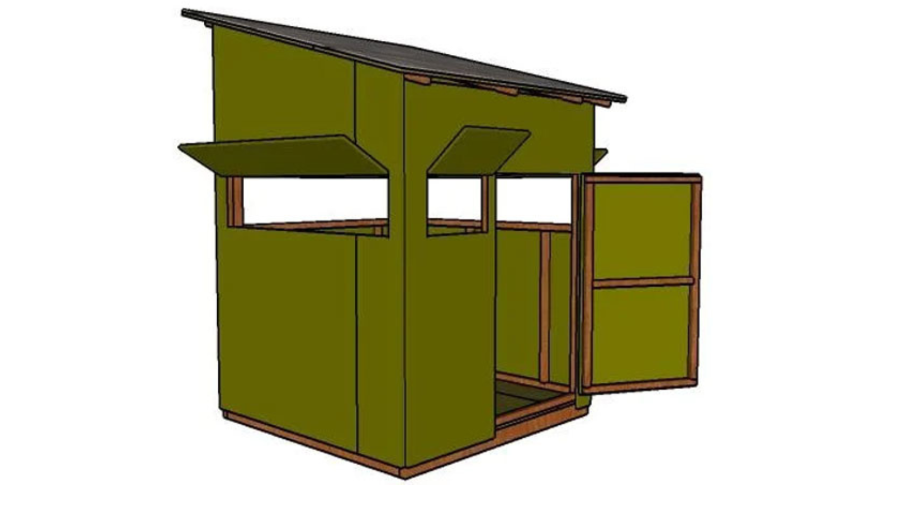 This is a 5×5 shooting house plan that is explained step-by-step to make the construction easy. The shooting house is sturdy with a door and binds on all sides. The design has a lean-shaped roof which makes it easy to build it. It takes just a few hand tools to complete this DIY project.
3. 4×6 Shooting House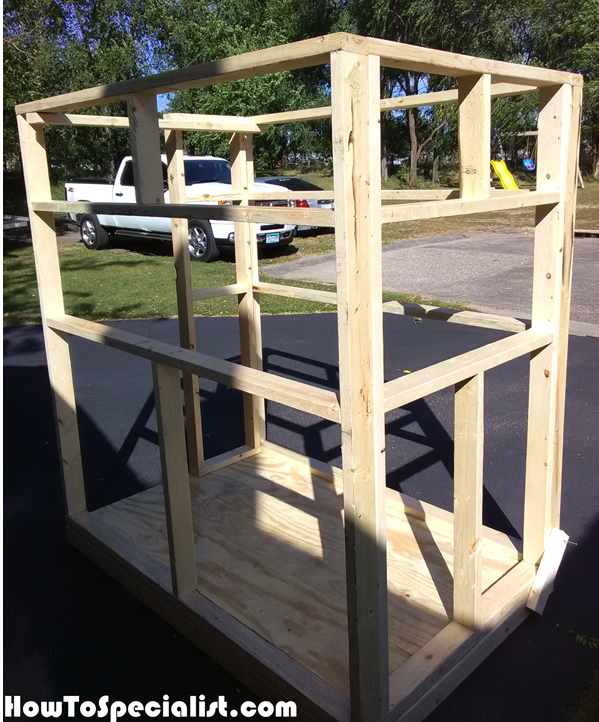 Here is a detailed woodworking project to let you construct a 4×6 shooting house plan. The house is small but sturdy perfect to shelter yourself in the hunting season when waiting for your hunt. The plan guides you step by step on how to build the shooting house. However, you are free to tweak the design and measurements a bit to suit your needs. You may wan t to incorporate an elevated stand and build the shooting house on it. This helps to give you a better field view.
To get the best result, invest in quality materials that you can afford. Also, take the measurements accurately to avoid reworks and wastage.
4. 4×4 Shooting House
Check out a detailed guide to help you build a 4×4 shooting house. The shelter is perfect to hide from the elements when you are out shooting. You are free to adjust the size of the DIY project if you have to. The plan is simple and even someone with no woodworking experience can build the shooting house with ease. Pre-plan everything in advance so that you do not end up committing costly mistakes.
5. Budget Shooting House
Whatever may be the weather outside; this budget shooting house will let you stay protected. Even in the acute cold season you will stay warm and enjoy shooting from your abode.
The plan uses 2×8 boards for the platform, and the windows from where you will shoot are at a height of 34 inches from the floor to place your gun in the best position to shoot. Functional but inexpensive, this is the go-to shooting house plan if you are looking to build one for cheap.
6. 4×8 Outdoor Shooting House
This is a 4×8 budget-friendly shooting house plan. Using reclaimed wood is a great idea as it will help to save the cost further. The guide has many images which break down the construction process making the steps easy to follow.
7. Elevated Shooting House
Swift to construct and easy to use, this shooting house can be built in no time, thanks to the detailed instructions with the list of materials, tools, and diagrams that this plan presents to you. If you find it easy to follow pictures and diagrams for your DIY project, you will surely love this tutorial. You may also scale the measurements and customize them for your use.
8. Epic Shooting House
This is a forum that will guide you on building a simple and easy shooting house for two people. It details the materials list, the plan and everything that you need to help with the construction.
9. 4×6 Shelter Shooting House
Take a glance at this hand-drawn shooting house plan. You can vouch for this design that lets you build a 4×6 shooting house. The plan is worth considering.
10. Shooting House With Ladder
This is a super detailed plan of a shooting house with a ladder. The steps are divided into various sections with the material list that lets you create the shooting house with ease.
Constructing the shooting house may not be straightforward, but for someone keen and ready to follow the guide meticulously, it should not be all that difficult.
11. Simple Shooting House
Easy to follow and quick to create, this is a DIY shooting house project plan that is sure to keep the newbie as well as an enthusiast engrossed in the construction. The guide gives you a step-by-step visual aid with a detailed list of materials and clear instructions to complete the craft.
12. Tower Box Shooting House
This tower box shooting house is ideal to build if you wish to be on a tree but do not have any present close by. The two decks of the design make this construction safe. It is easy to climb the shooting house.
Conclusion
As the hunting season draws closer it creates an adrenaline rush coaxing you to perform better this year. This is why we bring some amazing DIY shooting plans to you to try out. Whether or not you may have thought about building the shooting house earlier, this article features some of the coolest shooting house ideas from the internet which we are sure will inspire you.
Browse through the many options that we have listed for you, noting that all of these plans are for free. With this handy know-how, it is time to start the project that promises you the best hunting experience this season while you stay comfortable and warm in the house waiting for your target.