If you want to add a garage to your home or remodel an existing garage, you need to get the size, height, and setup right. Building a garage is no mean feat and is up there with the most challenging DIY building tasks you may encounter in your home. However, as against buying garage kits and assembling, the building will allow you to create the exact idea you have in mind.
For such a large project, it is okay to be a little confused about the process, which is why this article highlights some DIY garage plans. The plan is the first thing you should have in place as it guides your next step toward making a suitable garage.
Companies sell garage plans, but you can still get effective strategies for free. We'll show you this today; free DIY garage plans you can implement immediately.
Free DIY Garage Plans
Follow this section to discover free DIY garage plans to build in your home. You'll find varying ideas that'll fit your space, resource, and capability, each with a short description and the link to its complete plan.
1. Shell Only Garage
We're starting this garage plan compilation with one of the most basic designs in this shell-only plan. It is simple, affordable, and effective as it focuses on only the necessary parts of the garage. Its lack of other features makes it unsuitable for some garage needs; this plan is helpful for the cost and ease of building.
It functions without dedicated flooring, allowing you to use the bare ground and add a floor when convenient. The shell posts sit in concrete foundations to ensure stability when carrying the framework.
This simple garage plan is ready for use with iron roofing material covering the top and plywood coverings on the side.
The plan is detailed with diagrams and labels to make the process straightforward. It features a wall frame plan and stud outlay, a footing and post plan, and a roof plan, among other detailed sections.
2. Detached Single Car Garage
Building a standalone garage away from any building requires a slightly different strategy than when attached to your home. This plan shows the direction for creating a detached garage for a single car with an extra storage area behind or above for small tools. With detached garages, you do not need to tailor your design to any prior building, so you have more flexibility.
Lumber like pine and cedar are durable, have attractive grain structures, and are ideal for such projects, with the guide containing the correct dimensions to make a 12×20 garage. However, you can adjust the size to fit your requirements.
It features a large garage door, a single door, and two windows for ventilation. Covering with several coats of paint will improve its durability and reduce moisture damage. You should also attach the siding to the exterior walls to protect against water damage.
3. Comprehensive Two-Car Garage
This two-car garage plan from Instructables is one of the most comprehensive, with details on how to go about other vital processes like obtaining a building permit and more. It features a large garage door spanning the entire length of a side.
It also includes a process on how to get the total bill of materials (BOM) for the project and a sample BOM for a 20′ by 22′ garage. The DIYer used the services of professionals to make the concrete flooring, but you can handle this section with the right resources and experience.
You can make the frames with the floor in place, but only after getting the supplies. Tools like the air compressor, framing nailer, 4′ level, jigsaw, circular saw, pair of 6′ step Ladders, power drill, and an extension ladder are essential for the project. Finish with suitable paint to give it an attractive look and protect it from damage.
4. 16′ x 22′ Garage Plan
At 16′ by 22′, this garage is wide enough to house a car and leave an extensive storage area for your tools. Its structure is such that the storage area is by the side of the car park area with a small door and window, making it easy to access. In comparison, the car park area features a large garage door for your car and large garden equipment.
The plan features a detailed fourteen-step guide with numbered processes to follow to complete each step. At the beginning of the manual, you'll find an exhaustive tool and material list you should get before starting the garage.
The steps start from the excavation and laying of foundations and end with its finishing. The installation of sheathing materials, air barriers, and garage doors and windows are among the other processes required to complete the garage.
5. Large Barn-Style Garage
This plan features a pictorial guide at every step, from excavating the land to the finishing. It features two sections, one built using cement blocks and the other from wooden frames and siding. The two-car storage area uses wood, while the workshop area uses blocks for the sides.
The workshop area features a car lift at the center for working on your car with thick industrial floor tiles to ensure a clean, attractive space that will not break from external pressure. Building this garage requires expert experience with the resources to match since it is large and is fitted with premium finishing.
The barn-style structure creates a beautiful outside view that draws attention to this sizeable free-standing garage area. Follow the over 50 pictorial guides to build this expansive garage.
6. Expansive Garage Using Steel Sheets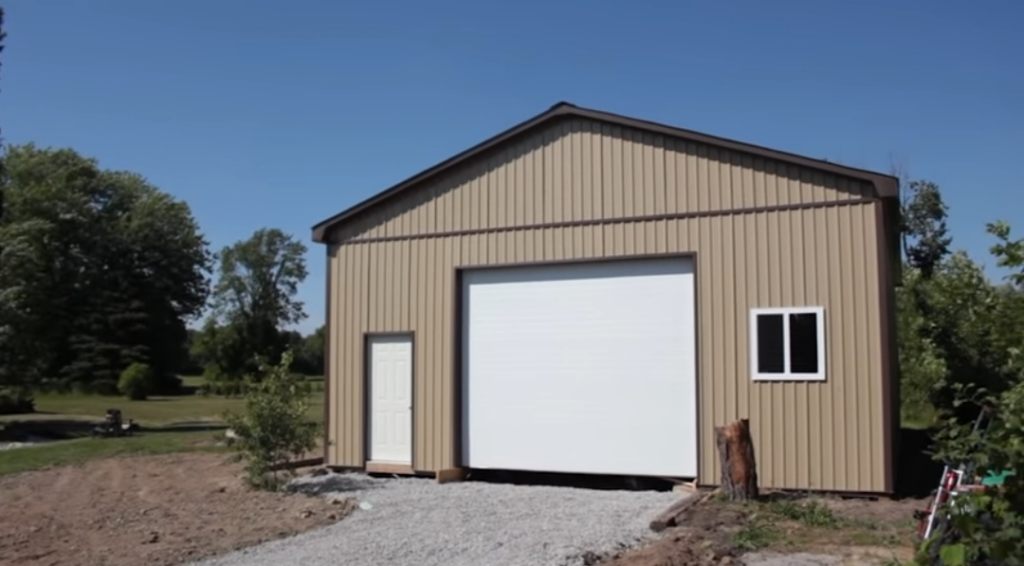 A large garage design uses steel sheets as exterior sidings to protect against moisture damage, with plywood or MDF panels added as inside siding. It features a large garage door, a standard door, and several windows to ventilate the ample space.
The plan comprises a 7-day video series with an additional video explaining the garage design and style. Such in-depth explanations and video guides make replicating this large project easier. Although its size and level of finishing mean you'll require a good level of DIY experience.
Each video shows a significant addition to the building, so ensure you carefully follow the 7-day series. The roof was built on the ground and mounted on the post once it was set in concrete. This process is more accessible than building the roof on wooden posts; however, it'll require a considerable workforce or heavy-duty equipment to raise the roof.
7. Double Garage With Porch Area
This standalone garage is large enough to accommodate two cars, with extra room for storing other garden equipment or workshop materials. It features a hip roof design for the garage area and a ceiling type that expands the storage area above with the porch area beside the garage, providing room to enjoy on a rocking chair or outdoor cushion.
The design brings character and homeliness to your space, with the finishing sure to further attract admiring glances from visitors. The two access points are a large garage door leading into the garage and a regular-sized door leading into a separate storage room from the porch area.
While this design is well thought out, the plan only features basic information and would only make sense to seasoned DIYers with experience building similar projects. The guide features a general floor plan, diagrams for each section, a cut list, and dimensions for the parts.
8. 12 x 20 Feet Garage
Garage spaces with 12 x 20 feet dimensions can house a single car and leave small room for some tools. This plan shows how you can build a detached garage on a small land area without significantly affecting your storage room.
Considering its size, it features ample storage space without demarcation but with two access points into the area: an expansive garage door and a single door. The plan is free, well-detailed, and contains a list of all supplies needed, a cut list, and diagrams of the building process.
The Sturdy roof is made from tongue and groove plywood sheets that make up the decking, tar paper for insulation, and asphalt shingles roofing sheets. At the same time, coats of wood stain on the sidings protect the wood from damage.
9. 20 x 24 Feet Detached Garage
If you're looking for a plan to build an oversized garage to accommodate up to two cars and other garden tools with minimal helping hands, this is the perfect guide. It follows a six-video series that spans several days of a single person and an extra helping hand building this garage.
Aside from the concrete floor and garage door, all the other parts were built or assembled in this comprehensive DIY guide. Its detailed structure makes it straightforward to follow; however, its sheer size and finish require a lot of experience.
The video series starts with a wall frame assembling process where the wall frames are divided and built on the ground before they are mounted on the concrete floor. Other video sections include trusses, roof, windows and doors, siding and trim, and final finishing. The number of windows and doors ensures proper ventilation and natural light in the garage.
FAQ's
Building such an enormous project comes with its challenges, and it is common to have many questions. Some of the questions you may have may be popular among other builders. This is why we compiled common questions about building a DIY garage with answers.
Q1. Do you need a building permit?
Ans. You need a building permit to construct a garage in most areas, so it is vital to determine the local zoning laws concerning adding or renovating your garage. Violating such laws can prove costly, with fines and possibly jail terms on the horizon. Remember, ignorance is no excuse.
Q2. Attached or detached garage?
Ans. Attached garages are built to an outside wall in your home and are usually convenient to create. They can use your home's plumbing and electricity and comply with most Homeowners Association contracts.
Detached garages, conversely, are standalone structures that are harder to build and cost a lot more. However, they are more aesthetically pleasing, thereby increasing your curb appeal.
Q3. How gigantic should a garage be?
Ans. The size of your garage should depend on your available space and the number of tools and cars it'll house. If you intend to use the area for a workshop, you need to add room for it.
Summary
Before building a garage, you should get the necessary approvals and decide on the style and size to make, including the type of fittings to use. This guide helps with plans you can choose from or combine to build your ideal garage.